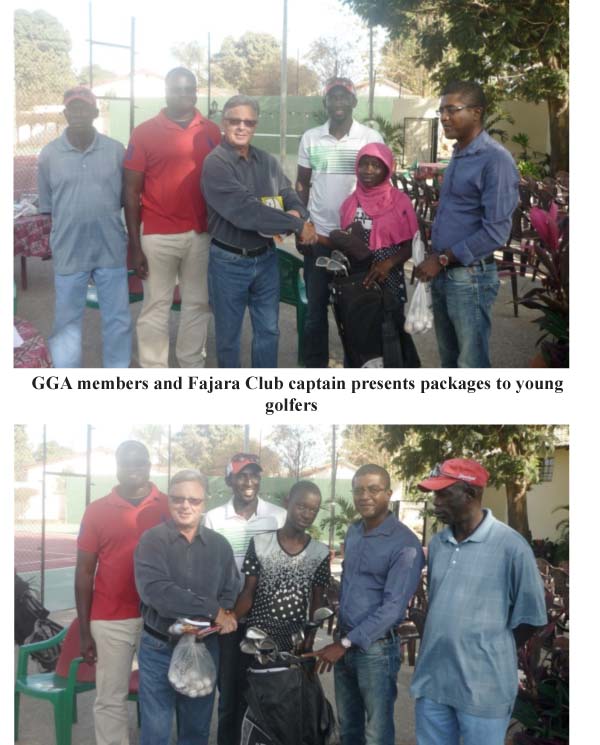 The Gambia Golf Association (GGA), in its efforts to catch golfers young, last Friday presented sponsorship packages to four young GGA members, nominated after careful assessment of a pool of talented and promising young golfers.
The package includes golf clubs, golf bags, gloves, balls, tees, shoes, lessons, rule books, full membership of Fajara Club, competition entrance fees and caddy fees.
The four beneficiaries are Alasana Jallow (14), Mariama Fatty (13), Anthony Jatta (14) and Isatou Dibba (14).
Speaking at the presentation ceremony held at Fajara Club, Ebrima Jawara, president of GGA, said due to resource constraints, they could only select four golfers between the ages of 13 and 14 to benefit from the sponsorship package worth D50,000.
He said: "We are immensely grateful to the co-sponsors of this package such as the Ambassador of Qatar to The Gambia, Mohamed bin Nasser Issa Al Kaabi; Captain of Fajara Club, Mr Alan Collins and his wife; GGA Treasurer, Anthony Tabbal, and GGA Professional and Gambia's No.1 Golfer, Kebba Drammeh.
"It is through the generous support of our co-sponsors and partners that our goals and objectives as the national governing body for the game of golf are being realised."
Mr Jawara congratulated the four young golfers for been the lucky ones and called on them to make full use of the golf course facilities and GGA Academy so that in the near future they can represent The Gambia at the junior level.
He also advised them to ensure that their academic performance at school is not hampered by their golfing activities.
The golf association president hailed the National Sports Council for allocating an office space to GGA at the Independence Stadium in Bakau.
Allen Collins, Fajara Club Captain, said they will be interested to see how the young golfers progress in the weeks and months to come to become part of the golf playing community in The Gambia.
Anthony Tabbal, GGA treasurer, told the young golfers that golf is a very good sport, but also a very difficult one.
He advised them to be focus, follow the etiquettes of the game, saying being a good golfer also makes one a better person because playing golf the right way makes one patient and honest.
Fakebba Drammeh, GGA professional golfer, said they started golf from scratch as caddies but today, they are thankful to God because they travel and represent The Gambia in different competitions, both locally and internationally.
He told the young golfers that in life, everything is hard work and dedication, while urging them to work hard, "success will hopefully come".
Read Other Articles In Article (Archive)