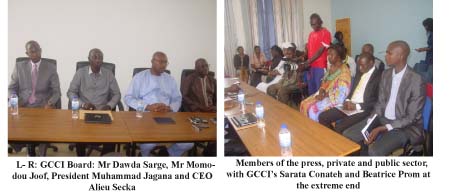 The work of the Gambia Chamber of Commerce and Industry in serving the business community in The Gambia is clearly noticeable by all and sundry in the country, said the Chamber President, Muhammad Jagana, at a press briefing yesterday at the GCCI Secretariat in Bijilo.
Over the last six months - aside from its remarkable achievements over the years – the GCCI has carried out noteworthy services and undertaken substantive development initiatives for the business community that could be written home about.
President Jagana said while the Chamber "works tirelessly" for members of the private sector on a daily basis, it also responsibly "engages with the Government to serve our common stakeholders".
"You may not see or hear us every day, but rest-assured that we work for you every moment including the Oil Marketing Companies, Tourism businesses, from the small petty trader sitting on the corner in the street, the banana farmer, the Nopal entrepreneur, our large corporations like SSHFC, GPA, GTB & NAWEC, cellular companies, etc." Mr Jagana said.
He stated further: "In January we were gathered here at Kerr Jula, Bijilo, to share with you some of the activities for the GCCI and the business community.Today, it is indeed my pleasure to report back to you highlights of our accomplishments for the first six months of the year.
"To set the stage, I wish to reiterate the GCCI focus for this year which is Building Partnerships, all activities were implemented on this premise.
"I would like to begin with one of our key activities, the 2014 Trade Fair Gambia, it registered 37, 716 visitors (a 71% increase on records) from 2013.The number of stalls also increased from 225 in 2013 to 257.
"With regard to GCCI Business Award Dinner (GBAs) we had a full house of 50 corporate tables.A slender milestone in 2014 GBAs, has been the introduction of an independent award council comprising Ministry of Trade, University of the Gambia, DT Associates and Gambia Bar Association, who as a group independently adopted categories, criteria, nominees and final winners."
Mr Jagana also disclosed that arrangements on receiving machinery from the Indian Government, through the National Small Industries Corporation "are almost final" as the Indian team "is expected in Gambia sometime soon for signing of the MoU".
The new Agro-industry plant, he disclosed, will be housed in new premises built at the new Trade Fair Site in Brusubi Institutional Area, whilst operational modalities "are being worked on" with MOTIE [Ministry of Trade, Industry, Regional Integration and Employment].
He stated: "A Council on National Economic Summit first launched in 2012 has been re-constituted to now include Messrs Amadou Samba as Chairman, Edrissa M. Jobe, Mohammed Jah, Alhaji Sankung Jaiteh and Ebrima Bojang as private sector leaders. The inaugural meeting for the private sector team was on April 24, 2014 and first meeting of the council is scheduled for June 2014."
Engagement with policy makers continues to be high on GCCI's agenda, President Jagana said, adding that a meeting with Vice President Njie-Saidy was held in February 2014, followed by a meeting with Minister Abdou Kolley of MOTIE in April 2014 in addition to regular institutional meetings.
"As part of our active policy to build partnerships and seek new opportunities, GCCI accessed a grant from the UK Embassy in Banjul to organize a series of forums on topics such as Foreign Direct Investment, Public Private Partnerships and Intellectual Property Rights," Mr Jagana highlighted, saying the first forum on Foreign Direct Investment as a catalyst for Domestic Investments was held on 16 March 2014.
"The PPP forum will be organised in collaboration with the Ministry of Finance and Economic Affairs on 19th June 2014," he disclosed.
"In connection with PPP, the GCCI is pleased to note that the Government has now put in place a framework to facilitate active participation of the private sector in the provision, delivery and management of inputs, equipment, machinery and services across the various value chain.
"Presently we are aware that a private sector operator from Turkey is negotiating for the provision of 10 megawatts of electricity for NAWEC.
"In order to intensify our engagement with Government, we plan to produce 7-9 Economic Position Papers. Presently we have already completed a paper highlighting balance of payment statistics. By end June 2014, two papers on Foreign Direct Investment and General Economic Outlook of the Gambia from 2008 to 2013 will be presented to Members."
He also said a Memorandum of Understanding was signed in March 2014 with Sahel Management Consultants to explore grants and financing for construction of the new Trade Fair grounds at the Brusubi Institutional Area.
The GCCI-GIEPA Activity Plan was developed as a result of an MoU between the two organizations, he noted, saying a training program on systematic approach to Business Development Services was organised by GIEPA for GCCI Staff through SME Specialist Colin Lancaster.
He also recalled that through support from MOTIE, GCCI led a mission to Dakar Chamber of Commerce to discuss the implementation of the Inter-State Road Transit and Economic Issues, leading to the signing of a roadmap outlining agreed tasks, on 28 March this year.
"You will recall that The Gambia-Senegal border was closed from early January to April 2014 and GCCI, along with the GPA led efforts to have the borders re-opened," he explained.
"Further consultative meetings were held with the Senegalese Transport Union and also the Senegalese Ambassador to The Gambia, H.E. Babacarr Diagne, who was most helpful and we recognize as a true Sene-Gambian."
Mr Jagana also said a new GCCI Constitution had been also adopted following the holding of their recent AGM on 10 April this year.
"Together with the Chief Executive I visited some members during the course of the last few months, namely Association of Indigenous Gambian Business Operators, several banks and importers of essential commodities," he recalled.
"Following signing of MoU with the Foreign Economic Relations Board of Turkey (DEIK) in 2012, a Gambian–Turkey Business Council was inaugurated comprising Mr Usman Tasbasi, Mrs Ndey Awa Khan Ceesay, Mr Mohammed Sisoho, Ms Fatou Senghore, and Mr Mohammed Sillah. The Council convened its second meeting in May."
He also said some Council Members accompanied H.E. the President of the Republic on a trip to Turkey in February and have already made some solid trade contacts.
"Another member together with 8 GCCI members attended the West Africa Trade Bridge in Turkey in April," he noted.
A member of GCCI in the Arts & Crafts sector supported by Gambia Tourism Board is currently in Detroit exploring new business opportunities, he stated, adding that plans are underway to expand the Council "which has generated a lot of interest" from the general membership.
"The GCCI received a grant from the Enhanced Integrated Framework Project to conduct training on business proposal writing for GCCI Members," the GCCI also president pointed out.
"The training is scheduled for 16th and 17th June 2014 and will provide much needed capacity development for our SMEs to enable them access funding."
An MoU between GCCI and Ziguinchor Chamber was signed in Ziguinchor at the end of May during a trade facilitation visit by the Gambian side to promote trade and economic cooperation between Gambia and Senegal.
Mr Jagana, who disclosed some upcoming activities of the Chamber for the next six months as the Public-Private Partnership Forum on 19 June, Sunday Markets on 22 June and Marche Jula from 29 November to 21 December 2014 in Banjul, concluded on this note: "Every one resident or doing business in The Gambia benefits from such work by the GCCI."
Several questions were posed by journalists and other participants at the press briefing around the issues of GCCI's engagement with the government or public sector to promote business and the country's economy. Some of these questions hinged on export promotion, high taxation and the dwindling of the exchange rate of the Gambian dalasi.
GCCI's CEO Alieu Secka, Public Relations Manager Beatrice Prom, Business Development Manager Sarata Conateh, Board Members Dawda Sarge and Sulayman Joof, and President Jagana were just too prepared to respond appropriately to the missiles of questions released at them by the press corps.
Read Other Articles In Article (Archive)