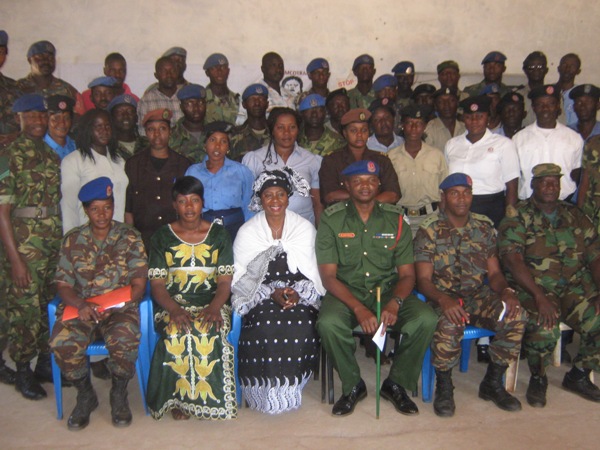 The Gambia Committee on Traditional Practice Affecting the Health of Women and Children (GAMCOTRAP), a leading women's rights NGO in the country, yesterday organised a seminar for fifty officers at the Fajara Barracks.
The participants were trained on female genital mutilation, child rights and gender-based violence.
Welcoming participants, Lieutenant Colonel Baboucarr Sanyang, the Commanding Officer of Fajara Barracks said knowledge is key and seeking it is important.
"In this world knowledge is everything," he added.
He advised the participants to take the training serious and always reflect on their notes which could be of help to them in future. "You should take the training with keen interest," he said.
Lt.Col. Sanyang thanked Gamcotrap for capacitating the men and women of the armed and security services.
Dr Isatou Touray, executive director of Gamcotrap, said her organisation is a women's rights NGO formed in 1984. "We work on women's human rights, reproductive health of women and girls and advocates for the prohibition of FGM," she said.
Dr Touray added: "We work with all sectors of the society in creating awareness on harmful traditional practices and the armed and security services are parts of the society."
According to Dr Touray, that was the 5th time they had had such training with the various units of the armed and security services nationwide.
She thanked the officers for receiving them with an open arm while thanking the Gambia government for creating the enabling environment for such a civil military relationship.
Dr Touray stated that officers of the armed and security services also have a right to know issues surrounding them, which forms part of their target.
FGM is inimical to the wellbeing of girls and women and is also a human rights violation, she says.
The workshop was sponsored by the US embassy through its project ducked:  A project for the prevention of gender-based violence and the promotion of women's rights and leadership in The Gambia.
2nd Lt.Sainabou Jatta of Fajara Barracks chaired the opening ceremony.
Female genital mutilation (FGM) comprises all procedures that involve partial or total removal of the external female genitalia, or other injury to the female genital organs for non-medical reasons.
The practice is mostly carried out by traditional circumcisers. The procedure has no health benefits for girls and women.
The procedures can cause severe bleeding, problems in urinating and, later, potential childbirth complications and newborn deaths.
The practice is still high in The Gambia but significant progress has been made leading to some circumcisers dropping their knives.
Read Other Articles In Article (Archive)