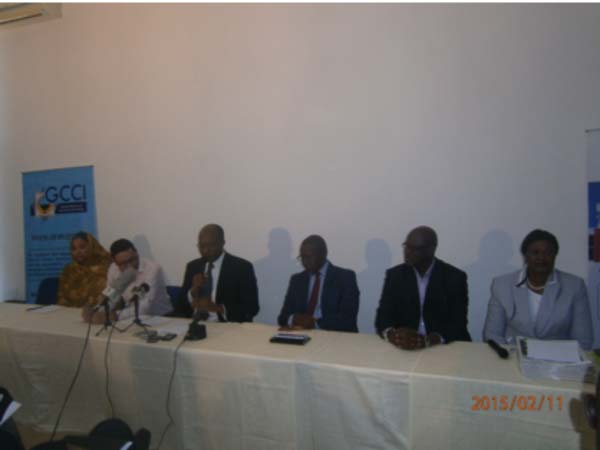 The Gambia Chamber of Commerce and Industry (GCCI) Wednesday launched Trade Fair Gambia International 2015 at a ceremony held at its Kerr Jula headquarters along Kerr Serign Road.
Launching the trade fair, Fady Hocheimy, Trade Fair Gambia International chairman, said the international trade fair would commence on 7 March and end on 22 March 2015 at the Independence Stadium Bakau on the theme: "Supporting Sustainable Enterprises The Gambia @50."
GCCI president Muhammed Jagana said the first national trade fair was organized in 2003 by the GCCI, and was considered a huge success with 88 local and 4 international exhibitors.
He said by 2014, for the Trade Fair Gambia 2014, the number of exhibitors had increased to 257 with 37,700 visits from 1 to 16 March 2014.
He announced that the chamber would also be hosting its annual business awards, also known as GCCI Business Awards (GBA), in the second quarter of this year.
For almost 25 years now, GBA has been conducted as an annual event, and the achievements of deserving Gambian business acknowledged, he added.
There would be additional new award categories, which would give their members more opportunities to register their successes in their various areas of business, he continued.
As part of the Gambia @50 anniversary, the chamber would publish its 2015 business directory, to provide the required platform to promote and showcase the products and services of its members and Gambian businesses, in general, to a wider network of prospective clients and customers, both locally and internationally, he said.
"The Marche Jula mini-trade fair which will be held later in the year," Jagana went on.
"Conceived and organized by GCCI, it is usually held in strategic selected lower-income communities, with the primary objective of creating an affordable platform where micro and small business will sell their products and services, as well as gain international exposure," he said. 
Read Other Articles In Article (Archive)