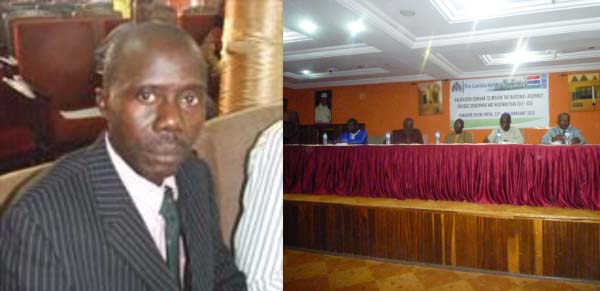 Stakeholders are currently meeting at the Paradise Suites Hotel in Kololi to review the National Assembly Strategic Development and Investment Plan for 2015-2019, sponsored by the UNDP.
In his opening statement, Hon. Abdoulie Bojang, the Speaker of the National Assembly, said it was a privilege to oversee the development and adoption of the revised National Assembly Strategic Development and Investment Plan, 2015-2019.
"With the support from stakeholders in governance, as well as our partners from the donor community, especially the United Nations Development Programme (UNDP), the National Assembly has been undergoing reform processes to strengthen its capacity as the key governance institution in The Gambia," Speaker Bojang said.
In this regard, he noted, the UNDP had supported the National Assembly to develop and implement its first-ever Strategic Development and Investment Plan for the period 2009-2014.
Hon. Abdoulie Bojang informed the participants that the Strategic Development and Investment plans were developed with a view to strengthening the capacity of the National Assembly to deliver its core functions of legislating, oversight, scrutiny and representation.
The strategic plan they are about to validate outlines the vision and mission of the National Assembly, as well as their achievements from 2009 to date, he said.
"We continue to highlight the strategic course of action with the four clear objectives and targets. We shall measure impact through the use of the logical framework and the strategic pillars outlined in this document," he said.
Specific activities to be undertaken within the timeframe of this Strategic Development and Investment Plan are also clearly defined, he added.
It also outlines the strategic activities, measurable indicators and means of verification for the successful implementation of the strategy document for the period 2015 to 2019, the speaker stated.
According to Hon. Bojang, this strategic plan shall always serve as the blueprint for the development, expansion and strengthening of the structures, procedures, systems and facilities of the National Assembly so that it continues to be an independent, effective and democratic legislature in all its deliberations.
"It is against this background that my office with support from both sides of the National Assembly harmonizes all technical, material and financial competencies to advocate and mobilize adequate resources to ensure that this plan is implemented successfully," he said.
Read Other Articles In Article (Archive)