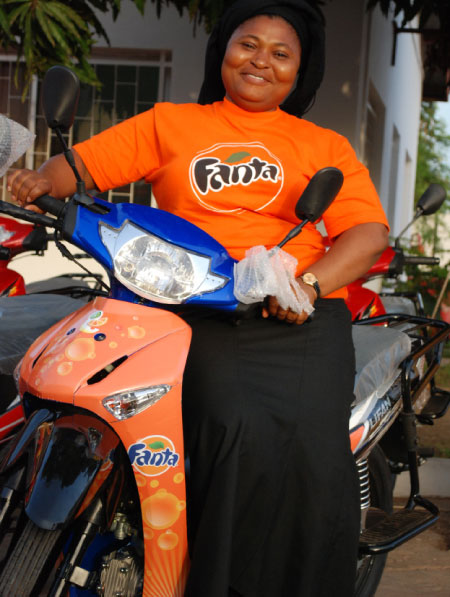 Gambega Limited the authorized bottler of the Coca Cola drink in The Gambia, and one of the leading beverage manufacturers in the country, has launched a promotion dubbed "Ride in Style with Fanta".
The exciting and exclusive launch bash held at the forecourt of their Kanifing factory on 5 June 2012 was characterized by a display of the new Fanta flavours, with valuable materials to be won by their customers, coupled with speech presentation, motor bike riding demonstrations, among others.
Speaking at the launching ceremony, Adolfo Mart Lacer, company manager of Gambega Limited, said "Ride in Style with Fanta" is a new promotion that seeks to reward their cherished and loyal Fanta consumers by offering them the opportunity to win amazing prizes, each time they pop open any of their four flavours.
The four flavours are Fanta Orange, Fanta Strawberry, Fanta Black Currant and Fanta Cocktail.
The Gambega boss encouraged Gambians to seize the opportunity and try all the exciting Fanta flavours, and get rewarded in addition.
According to him, a total of five motorbikes will be given to winners every week, as well as numerous valuable materials such as laptops, thousands of T-shirts, free drinks and wrist bands.
Kofi Polley, who made a presentation about the promotion, said participating in the promotion is simple, since all what consumers need to do is to purchase and enjoy any of the delicious Fanta flavours.
"After purchasing the Fanta flavour, look under the crown and collect all 4 parts of the motorbike (handle bars, the body, the tyres and the key) to win yourself a motorbike," he explained.
He added that other prizes can be won instantly, and prizes can be redeemed at various redemption centers across the country.
The promotion runs from June to August 2012.
Read Other Articles In Article (Archive)