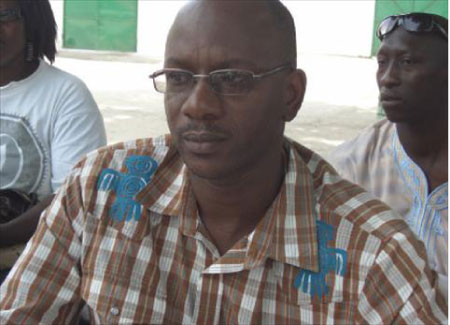 Muhammed Musa Njie alias Papa, President Gambia Basketball Association (GBA) has said that, his executive will take action against Serrekunda West male basketball team following their misbehavior during the final of the basketball league game against YMCA at the Independence Stadium basketball Lawn last Saturday.
Papa Njie who was speaking to reporters shortly after the final on Saturday added that, the final was beautifully but unfortunate for Serrekunda West to misbehave because a referee made a decision which didn't favour them.
They will continue to promote basketball as a committee, he stated, saying: "If you want to join us join us, if you do not want to join us stay at home".
They are not asking for any violence, he said, adding: "as ever the executive will take its decision on the misbehavior that happened".
He noted that, it was embarrassing for them to invite media houses, dignitaries, sport lovers and people who can potentially sponsor basketball and for Serrekunda West to just misbehave.
"The funny thing was they were tight - no team was winning - so why the misbehavior? He asked, saying, in basketball the referee has a second to decide and sometimes it favours you, other times it does not.
"You can see during the game sometimes calls will be against them and sometimes in their favour", he observed, noting that, the referee did the call on his personal judgment and unfortunate they take it negatively.
Asked whether he still feel motivated to continue working on reviving basketball in the country after seeing what had happen, Papa said: "I have a vision and nobody can stop me from trying to get that vision, if you want to disturb me I just push you out of the way", adding: "if you thing you are too good for basketball stay at home, we will make sure we deal with those who cause the problem".
"I had some of them insulting my mother including small boys who can be my son insulting my mother for what, asked an emotional Papa Njie, saying: "am volunteering, we are all volunteering in trying to develop them to be better players but unfortunately they were not professional".
Asked the strategies they will put ahead of next championships to give a strong signal to teams that will misbehave, he said: "as ever we have a disciplinary committee and they will take actions against those that want to disrupt basketball".
Commenting on the final, the GBA President said, he was really excited and proud of everybody, starting from the media, coaches, referees, spectators, players and everyone as every came out in large numbers even though we had world cup games going on.
"This shows that people are dyehard supporters of basketball", he said, while thanking everybody for coming out to support basketball.
They are still looking for sponsors to help them, he appealed once more, but added that, he was pleased with veterans coming out to watch the final.
"Somebody was telling me Papa you should call me and I said hey listen we all own this game", he said, noted that, anyone interested in working with them is welcome as there is always room for somebody to help.
Mr Njie added that, he was pleased they came to the final to support them, saying, he hope come next season they will come and support the federation.
Last year they had 10 male teams but this year they had 12 teams, he said, describing it as a progress and a sign that basketball is coming up.
The level of players compared to last year has also gone up this year, he also observed, noting that, the scores also shows that basketball is coming again.
The quality of referees has as well gone up, he further said, adding: "the referees have done their job and we are proud of them".
The GBA President said they have series of plans that they want to implement as they have an idea where they want to take the national team -both male and female, including referees and coaches on a nationwide tour.
They want to go to various towns and spend 3 or 4 days their and do a selection, train with the national team, referees and coaches and then leave a team there with a structure and go to the next town until they cover the whole Gambia, he added.
Those teams they will selected with the coaches and referees will train once or twice a week, he also said, noting that, with that development will gradually come as those teams that will be trained will also go back to the schools and train them.
Gradually they will start creating that grass root movement which will hopefully help basketball get to the next level, he remarked.
Papa also said that, FIBA has written to them saying they are qualified to go for the preliminaries of the Afro-basketball and All Africa games but said they do not have funds and again appealed to people to help them.
Read Other Articles In Article (Archive)