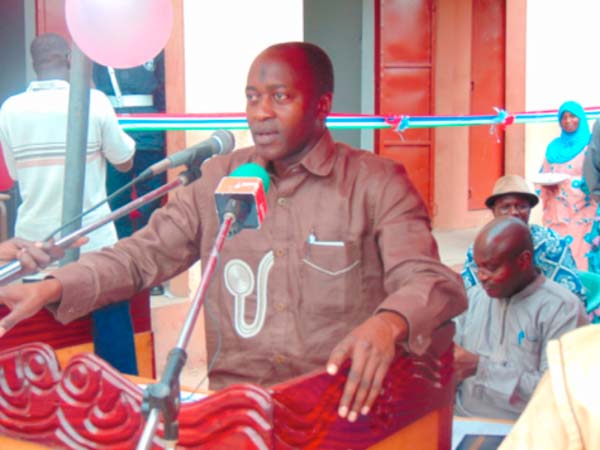 The Minister of Lands and Regional Government, Musa Amul Nyassi, has warned all those collecting monies from vendors to deliver the monies to the area council, where it should be deposited so the council would be able to plough back the money in areas of need to the taxpayers in the form of development projects and programmes.

He made the caution while delivering a statement during the handing over, of a multimillion dalasi extension project of the Brikama Market, by Gamworks to Brikama Area Council, on Monday.
He also advised them to be God-fearing and deliver the money where it is supposed to be delivered.
"We will be accounting for this money that we collect from the people, if the monies are not delivered to the right place," he told tax collectors.
Vendors have never defaulted in paying their taxes. They pay tax on a daily basis, and are asking what is stopping the tax collectors from ensuring that the money they collect from them reaches the council so they could be ploughed back to the need of the taxpayers.
"I caution you all to be very careful. We are not going to spare anybody if you are found wanting," the Lands and Regional Government Minister warned.
"We all know The Gambia, as a country, is a tax-based economy as at now, and our main sources of income as a government to be able to embark on these infrastructural developments is through the tax that is paid by the taxpayers.
"Every citizen of the country is entitled to pay tax, because it is through tax that the government has embarked on all the development today we are all proud of."
He said the management of the council is more of implementers, as these are done as a result of the tax paid to the council by taxpayers.
He also commended the management of the Brikama Area Council for their "wonderful job", which would go a long way in addressing the needs of the taxpayers.
He said the maintenance of the structure is the sole responsibility of the users of the structure, adding that the need to be innovative in the way they manage the facilities.
The Lands Minister also praised the Gambian leader for his visionary leadership and for the peace and security The Gambia continues to enjoy, saying all the developments are made possible due to his dynamic leadership.
"He is the architect of the peace and security in The Gambia and, therefore, Gambians owe him a lot," he said.
Read Other Articles In Article (Archive)