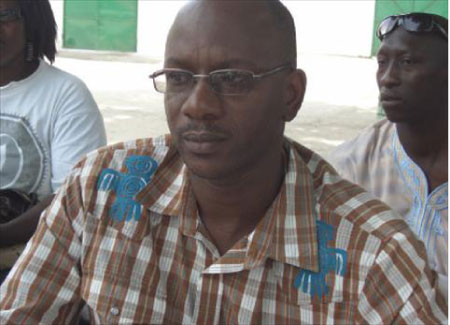 The second edition of the 3-on-3 basketball tournament of the Gambia Basketball Association (GBA) is set to commence on 10 January 2014 at the Independence Stadium in Bakau.
The group stage will take place on 10 and 11 January while the finals will be held on 17 and 18 January 2014 at the Independence Stadium Basketball Lawn.
Here, following, is the full text of the press release issued by the Gambia Basketball Association:
Now that Basketball is on its way to becoming one of the most popular sports in The Gambia, the GBA would like to use this momentum to continue engaging Gambian youth via basketball.
Sport has always been a successful development tool for providing youths with the life skills they need to be successful in life. Playing basketball in particular teaches youths how to work within the context of a team, installs a hard work ethic and due to the nature of the game provides them with critical thinking skills.
It is in this vein that the GBA invites the general public to come watch its second edition of the3-on-3 Basketball tournament.
This type of tournament makes recreational and competitive basketball fun and entertaining to both players and fans, reaching out to those who have traditionally not been a part of the basketball community.
It has an organic urban culture that makes it appealing to a wide audience of fans, especially today's youth.
It increases and encourages the general population to take part. This means that although the event may be competitive in nature, the requirements for participation are quite open and have an aim at inspiring achievement and instilling pride through sport and physical activity while also developing basketball and important life skills.
The tournament will be divided into the following groupings:
High school students (under 18) - boys and girls
Young adult (over 18) - men and women
Over 35 players –open
Celebrities –open
Corporation & institutions - open
Each team will register 4 players (3 plus 1 substitute) and each game lasts 10 minutes. All teams will play in the groups' stages with the best four teams proceeding to the finals the following weekend.
There will also be following site competition: free throws, three points shooting, dancing and dunk completion.
A special invitation is extended to all Ex-GBA Presidents, former players, former referees and supporters, namely Adama Mbye – Adowa, Alhagi Cherno Joof, Alhagi Conteh, Alhagie Momodu Dibba, Alhaji Njie Biri, Alhagi O.B. Conateh, Amadou Jobe, Aminata Sowe, Babou Cisse, Babou Sowe, Badou Drammeh, Bakary Sanneh – Brikama EX, Baks Touray, Basin Ceesay, Bishop Telewa Johnson, Bun Njie, Caroline Akins, Dodou lie Faal, Donald Sock, Edi Njie, Eli Eunson, Etta Baldeh, Fatou sinyan Mbergan, Halifa Krubally, Honorable Omar Faye, Jewru Krubally, Kebba Mbye, Maimuna Savage, Mam Essa Gaye, Mam Kumba Njie, Mayor Samba Faal, Mbat Jobe, Modou Per Grant, Momodou Njie, Moses Njie, Nana Akins, Oko Drammeh, Oley Camara, Honorable Omar Sallah, Omar Sey, Ousman Sabally, Pap Saine (The Point Newspaper), Oreme Joiner, Rev Tony Sonko, Saul Mboob, Saul Sinyang and those I might have forgotten to write their names. We hope to see you all compete in the over 35's categories.
Read Other Articles In Article (Archive)