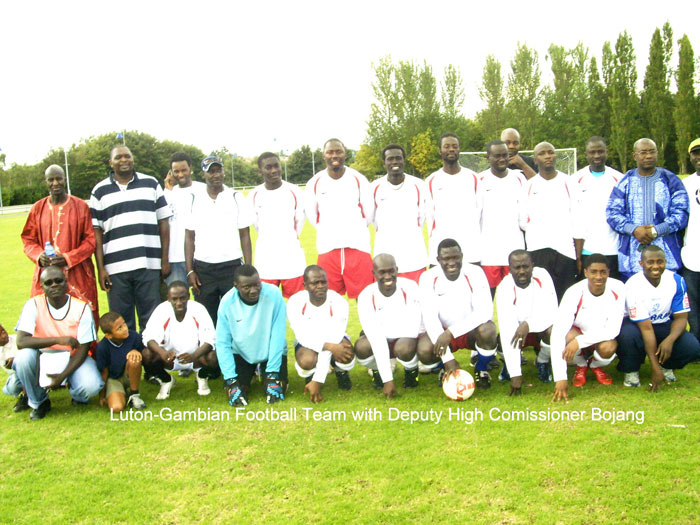 The Luton Gambia Association in the UK on Saturday 8th August, 2009, held a successful summer football tournament under a beautiful sunny day.
The event was a real success, witnessed by distinguished personalities, including the Deputy Gambia High Commissioner in the UK, His Excellency Yusupha Bojang, Mr. Bai Malleh Wadda and Bakary Jammeh, the Vice-President of Real de Banjul and a representative of the Gambia National Sports Council, who is currently on a holiday in the UK.
There were four Gambian teams from London, Reading, Watford, Luton and two other African nationals from Sierra Leon and Zimbabwe.
The teams were divided in two groups. Group A includes Luton, Zimbabwe and Watford, while Group B comprises London, Reading and Freetown.
After the first round from each group, Watford and Reading were first knocked-out, remaining the rest all of whom went to semi-finals. Zimbabwe made a hard come back as runners-up from group A to win Freetown winners of Group B.
Luton maintained their lead with London on penalties after a goalless draw, and then faced their rivals whom they won 2-1 in the first round. However, the Zimbabwean team made no mistake to capitalise on early goal of a loose Luton defence.
The Luton team under the able coach Wande Njie, though put up a strong fight with good home support failed to repeat their win.
Zimbabwe was handed the winner's trophy by the Chairman of Luton Gambian Association, Mr. Amat Cham.
Mr. Ebrima Janneh known as Abou Taya handed the most disciplined and organised team trophy to Sierra Leon, while Mr. Musa Ann handed the best player of the tournament trophy to Cherno Jallow, known as Pulo Boy of Luton.
The trophies were sponsored by the Chairman of Luton Gambia Association who also made a brief speech to advise Gambians in the UK to unite for good.
He called on the Gambian Association in Luton to work hard and maintain unity among themselves.
He thanked the Deputy Gambia High Commissioner for the precious time he spent in Luton and everyone who attended the event, singling out Abdou Bawo(Laat), Abass Mboob, Boy Janneh, Njaga Samba, Max Jallow, Pa Balla Colley and Jola Sama for  sacrificing their time for the success  of tournament, as well as the ladies who served them delicious Benachin, Fufu and Ebbeh.
The tournament was well attended by many Gambians and other African nationals in the UK. All the participating teams expressed sincere appreciation to Luton Gambian community for their efforts in organising such an important event. The Gambian teams at Nottingham and Crawley sent their apologies for not attending the tournament. Unfortunately, the other Zimbabwean team from Luton was not allowed to take part, due to their late arrival.
The Luton Gambian Association plans to make the historic tournament with more teams from different countries.
The tournament featured young and old Gambian talented players. The young players inspired all the spectators and wished them well in their career.
Read Other Articles In Article (Archive)