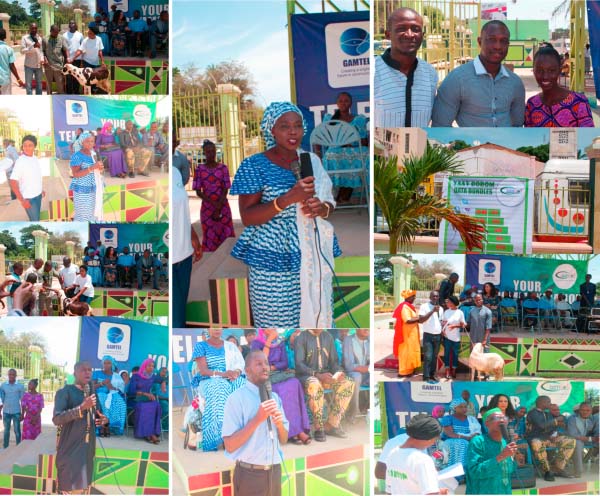 (Issue, Monday, 19 September 2016)

The country's national GSM operator Gamcel/Gamtel recently presented dozens of Tobaski rams to their customers, who emerged as lucky winners of the company's yearly scratch and win Tobaski Promotion.
The winners were given their rams at a colourful ceremony held at the Westfield Youth Monument in the presence of the GSM company's deputy MD Fatou Fatty and other high-ranking officials.
According to the GSM operator's officials, the Tobaski promotion, which took place immediately after their Hajj Package Promotion, was geared towards giving back to their customers as a form of saying 'thank you to them for their loyalty'.
Speaking before the presentation, Ma Nyima Cham, Gamcel's senior Marketing Manager, described the partnership between Gamtel/Gamcel and their customers as "special".
According to her, for Gamcel this was the only way to say 'thank you for their loyalty' and to their valuable customers ahead of the big feast –Tobaski. She also said the national GSM operator is here to serve the needs of the Gambians at any cost.
Ms Cham thanked their customers for their support, patronage and loyalty, saying it is important for every Gambian to have a Gamcel line.
Lamin Fofana, manager of communications, said: "Gamtel/Gamcel is doing this yearly without asking for anything in return due to the loyalty of our customers. I believe the customers who were with us since 2001 and all those who have joined along the way deserve something from the company. This is not enough to satisfy all of our customers, but I believe it will surely serve as a motivation to even those who are yet to have the Number 9."
"I hope our little contribution will somehow improve the lives and livelihood of the customers, especially during the Eid-al Adha (Tobaski)," he said.
Sarjo Khan, director of customer service, reassured their esteemed customers that the national GSM operator would continue to deliver quality service to them, saying Gamtel/Gamcel would continue to work hand-in-glove with its customers towards enhancing development, as well as to support national development.
The lucky winners after receiving their rams thanked Gamtel/Gamcel for the gesture.
Read Other Articles In Article (Archive)