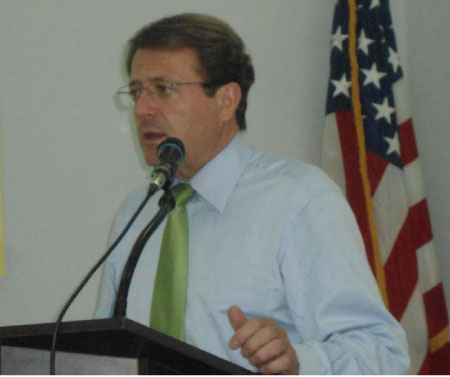 "Democracy is impossible without liberty of expression, without freedom of speech in all its forms, including the right of association, right to speech and write, to say what you think, form your opinion," Eduardo Cue, a veteran US journalists has said.
Cue, based in Paris and stringer for US News and World Report, was speaking while giving lectures to local journalists on the role of journalism in Democracy at the American Corner on Monday.
The lecture is part of a series of others to be delivered at a two-week intensive course organized by the US embassy in Banjul for over 20 Gambian journalists drawn from both the print and electronic media.
Having worked with the UN High Commission for Refugees based in Geneva as a spokesperson, Mr Cue described Africa as an important continent, noting that he is very much aware of the extremely difficult conditions under which African journalists operate.
According to him, dictatorship is impossible with freedom of expression. This, he said, is because dictatorship simply cannot operate with freedom of expression. "It simply cannot happen for reasons that are quite obvious and it is impossible to speak of democracy without talking about freedom of speech," he stated.
He told journalists that freedom itself is concept philosophical and that it is a gift for every citizen to have the right to assemble with others, forming associations, labour unions, groups, the rights to write and speech, and write to criticize.
Democracy, he said, is a process not an event. "If you think about what is going on in North Africa and the Arab world beginning from Tunisia, going to Egypt, Syria, Libya, Yemen, and Morocco, we could say that democracy has to be constructed, and constructing that democracy in those countries will be a long and very difficult process," he stated.
Cue further told journalists that their fundamental role in democracy is to give the ordinary citizens the tool, which can make decisions and those tools are of course information, that right to know what is going on in their countries, neighborhood, region and in the world. "The fundamental problem is that in any system including established democratic systems, those who are in power and those who hold economic, political and social powers are those we call the elite. We think they know better and they think that they are keys to the truth; they think that doing it in their ways is the way to move forward," he added.
Read Other Articles In Article (Archive)