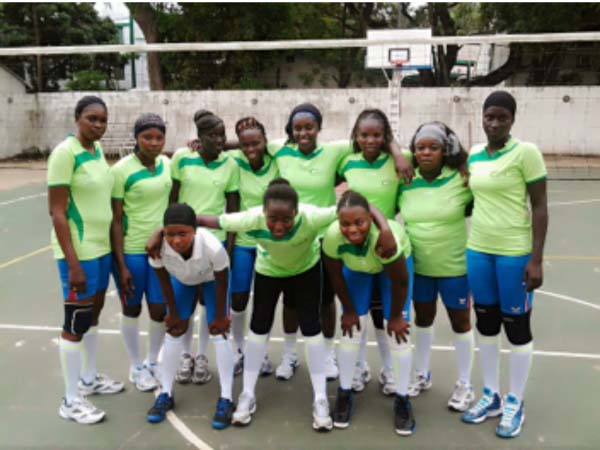 It was an amazing Saturday afternoon at Serrekunda East volleyball court where Gamtel/Gamcel Volleyball Girls fought to preserve their pride against interior.
In the heat of the knockout semifinal, screams were heard, falls were taken, and tactics were played, as we witnessed how the telecom girls stretched their limits in an amazing 3-2 victory over the 6-time winners Interior
With the weight of the competition sinking in during these initial moments, Interior went off to a shaky start, making several errors.
However, both sides performed equally well, each taking a few points apiece, where a long rally with several impressive saves saw the point eventually go to Gamtel/cell.
From the point, the point gap gradually began widening up till where a nice spike from Sainabou Tambedou gave Gametal/cell the first set at 25-16.
The telecom giants continue to shine in the second set and they got it with a 25-17 display.
Early on in the 3rd set, Interior were the ones who posed the threat, and indeed scared the opponents.
Impressive teamwork where it was almost dangerously instinctive how the timing between players was co-ordinated allowed the police to dominated and get the 3rd set 25-23.
The game got more intense when Interior level matters 2-2 with a tight margin at 25-23.
With two sets in the bag for Gametal/cell, the blue girls knew it was their last shot, and fight they did.
At 11-0 to Gametal/cell, the following rally left even spectators gasping for air, where both teams displayed superb spikes, blocks, and saves, with the point eventually going to Gametal/cell.
Interior managed to get 2 points but it was Gametal/cell who carried the day with 15-2 in the golden set.
Meanwhile Gaf also stopped Brikama female in the other semifinal 3-0 for their second final in 2 years.
In the male events Old Jeshwang beat Serrekunda East 3-2 and Gaf suspended to Brikama to book another tricky final against the league champions.
Read Other Articles In Article (Archive)