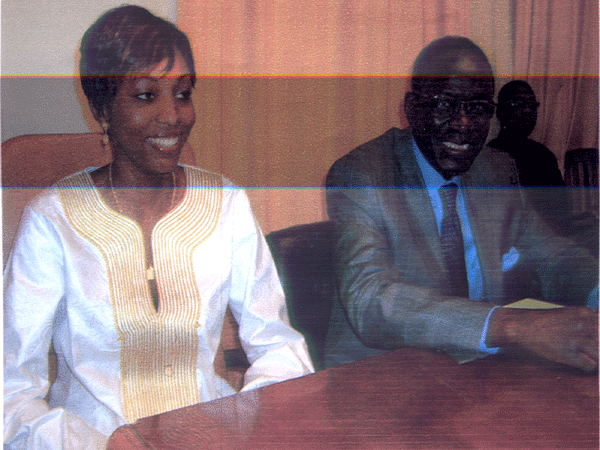 Gambia Telecommunication Company Limited, Gamtel, and SONATEL of the sister republic of Senegal, have signed a new Memorandum of Understanding (MOU), a press release from the Department of State for Communications, Information and Information Technology reveals.
Under the MOU, Sonatel has agreed to increase The Gambia's Internet Bandwidth capacity from 34 megabits to 68 megabits by the end of April 2008. This, according to the release, is also envisaged to be doubled by the end of the year to STM1 capacity. The cost of the bandwidth has also been negotiated, and a discount of 28% has been given to GAMTEL.
The MOU is the outcome of a mission recently embarked upon by Ms Fatim Badjie, Secretary of State for Communications, Information and Information Technology, and Mr Rein Zolsman, Chief Executive Officer of Gamtel, to Senegal.
"This increase in capacity will undoubtedly provide greater access and affordable high speed internet services to Internet Service Providers and consumers," stated the release.
"A new microwave link will be installed in three months time to provide connectivity between Banjul and Kaolack, and through Fibre Optic to Dakar for enhancing GAMTEl's network, and also serve as a back-up to the South Bank Optical Fibre in the event of fibre cut or damage.
"A technical committee comprising staff of GAMTEL and SONATEL has been set up to regulate the spilling signals between Gamcel and the Senegalese GSM operator, ALIZE, especially around the boarders."
"This," the release added, "would help subscribers avoid unnecessary and costly roaming signals in their own territory.
"SONATEL and GAMTEL have agreed to reduce the charges for roaming by 50% to make it more affordable to the people of the two countries, and the bulk of the reduction would trickle down more to the consumers."
The release further stated that The Gambia and Senegal, through their technical institutions, have agreed to make use of each others' expertise when the need arises.
Read Other Articles In Article (Archive)