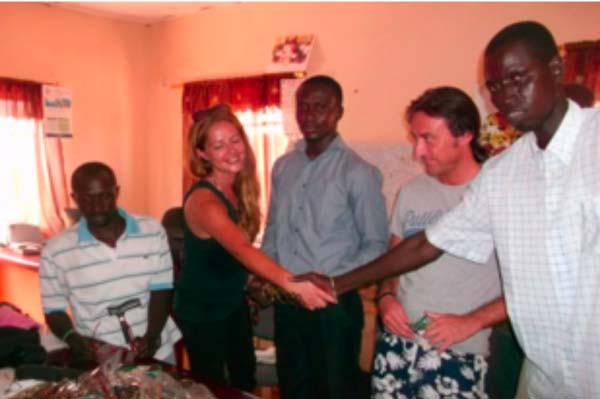 Two Spanish philanthropists, Javier De La Morena and Karmen Louzao from Vigo city in Spain, yesterday donated about five hundred myopia, longsighted and shortsighted lenses to the Gambia Organization of the Visually Impaired (GOVI).
The donation, held at GOVI office in Kanifing, also sought to foster and strengthen a long-lasting relationship between GOVI and the philanthropists as well as between their countries.
The lenses were obtained from various philanthropists in Spain.
Speaking on the occasion, Ebrima Dibasey, executive director for the Gambia Federation of the Disabled (GFD), said his organization is set to improve the welfare of persons with disability.
GOVI is also engaged in various areas geared towards improving the life standard of people with disabilities, he said, adding that their programmes are "drastically reducing" the number of their members from the street, which helps in poverty alleviation.
He thanked the donors for the gesture, saying their donation would go a long way in helping people with visual problems.
He assured the donors that they would engage health workers in hospitals for the right prescriptions to be able to provide the donors with the right prescription and statistics.
A co-donor, Javier De La Morena, said they are looking forward to having strong collaboration with GOVI.
He emphasised the need to get the right prescriptions from doctors so they would be able to provide statistics for the right lenses in the future.
He also urged GOVI to bring on board health officials from the government and hospitals to provide the right prescription.
Karmen Louzao, in her remarks, said they communicated to various philanthropists in Spain to help in providing lenses for people who have visual problems in the country.
She said it began when she decided to bring lenses for a friend who had visual problem, to see if they would suit him, since the friend could not afford to see a doctor.
They later engaged in asking many friends in Spain to provide them with glasses.She said she was glad to see an organization such as GOVI that is concerned with the welfare of the disabled.
The coordinator and board member for the Gambia Federation of the Disabled, Lamin Manneh, thanked the donors for the gesture, saying they are working hard for the improvement of people with disability.
He said they are also looking forward to having a strong and lasting collaboration with other supporting institutions and philanthropists.
Read Other Articles In Article (Archive)