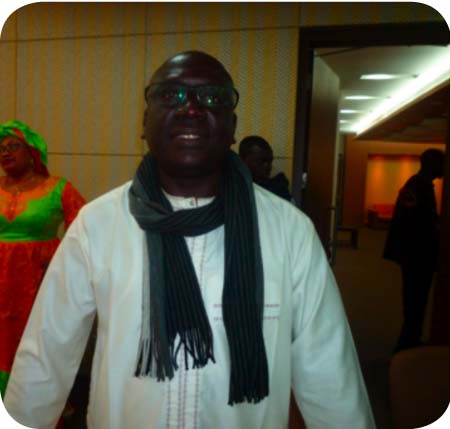 Babucarr Sanyang, Managing Director of The Gambia Telecommunications Company Ltd, has said Gamtel slowed down significantly during the third quarter of 2013 due to the rearrangements by the government in the utilization of Gamtel 50 per cent share of the international gateway traffic.
MD Sanyang was speaking on Thursday at the National Assembly, while presenting the Gamtel activity report for the year ended 31st December 2013 before the joint session of the Public Accounts Committee and Public Enterprises Committee of the National Assembly.
The Gamtel managing director told Assembly members that the total cost of scales for the year under review was D537 million in 2012, representing a decrease of D155 million or 22 percent.
The gross profit during the year increased significantly from D332 million in 2012 to D388 million in 2013 representing an increase of D56 million or 17 percent, he said.
The loss for the year increased from D93 million in 2012 to D141 million in 2013, representing D48 million or 52 percent, he stated.
According to MD Sanyang, the increase in losses was primarily due to the decrease in international revenue, as well as increase in administration expenses.
The balance sheet totals also showed a reduction of D58 million from D1.207 billion in 2012 to D1.139 billion in 2013, representing 5.6 percent, he said.
The values of the non-current assets dropped significantly from D904 million in 2012 to D695 million in 2013 representing 23 percent decrease, he added.
"Globally, the demand for voice traffic is dwindling, hence the emphasis during the year has been to roll out projects that provide data and innovative services, acquisition and retention of customers, particularly data customers for revenue maximization," he said.
Notable among these projects is the provisioning of fiber optic services to businesses, he stated, adding that this was a success story as demand for the service had been overwhelming.
With the commissioning of ACE submarine cable project, it is hope that the provision of wholesale bandwidth services to the SM operators, banks, diplomatic missions, internet service providers (ISPS) and other businesses would increase and tremendously improve revenue-generation, MD Sanyang noted.
"There are plans to provide similar services to the residential customers in the near future," he announced.
Read Other Articles In Article (Archive)