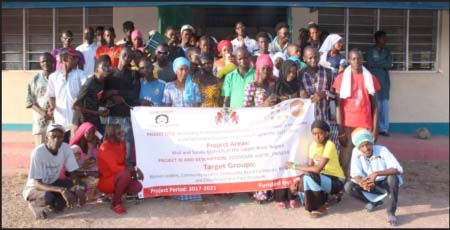 Gambia Committee on Harmful Traditional Practices Affecting the Health of Women and Children (GAMCOTRAP), last Thursday sensitized youth of Sandu District on Female Genital Mutilation (FGM) and its health complications at Sarre Gubu village in the Sandu district, Upper River Region; funded by UNFPA Gambia Country office.

The forum brought together one hundred youth across the district aims to accelerate the abandonment of FGM and other harmful traditional practices includes: Early\ Forced Marriage and Gender Based Violence.
In his opening remark, Musa Jallow, GAMCOTRAP team leader said the sensitisation means to empower the youth with the require information regarding FGM and other harmful traditional practices.
"Research has shown that FGM is still being practiced in the three districts of the region namely: Sandu, Wuli East and Wuli West Districts; therefore, we (GAMCOTRAP) and our partners deem it necessary to enlighten the youth on FGM in order to help in the promotion and protection of the future generation from such practices," he said.
Mr. Jallow added that there is a need to raise the awareness of the youth as future leaders, noting that they are instrumental in changing harmful activities in the society.
"These harmful traditional practices are changeable depending on advancement of knowledge as well as generational changes," he noted.
However, he said some believed that GAMCOTRAP is fighting all traditional practices in the society but he clarified that the organisation only combats traditional practices that are detrimental to women's and girl child health.
He enjoined the participants to utilize the knowledge gained and share experience so as to contribute in the elimination of harmful traditional practices in their various communities to ensure free FGM society.
Fatou Bojang, GAMCOTRAP field coordinator described FGM as one of the factors affecting the health of women and girl- child in the Gambia, adding that it causes numerous health problem to women citing excessive bleeding, urinary retention among others.
Ms. Bojang called on all and sundry to avoid these harmful traditional practices, especially FGM so as to ensure healthy women in the society.
She opined that parents should enroll their children to school to improve their understanding on social issues as well help to alleviating poverty in the country. While urged the youth to be conscious with family planning, noting that understanding family planning would enable them to control their birth space as expected.
Malick Baldeh, GAMCOTRAP regional coordinator for URR described FGM as un- Islamic but mere traditional practice that is affecting women health.
On his presentation, Kelepha Kandeh, health personnel from the Ministry of Health Regional office in URR revealed that 85 percent of URR women have gone under FGM and 60 percent out of the cut women were seal during their circumcision.
He said this practice caused severe pain to women, excessive bleeding, urinary retention, and series of complications during giving birth, causes women barrenness among others.
Ebrima Jallow, a participants commended GAMCOTRAP for enlighten youth on FGM. He urged his fellow partakers to play active role in ending FGM and other harmful traditional practices.
Read Other Articles In Article (Archive)