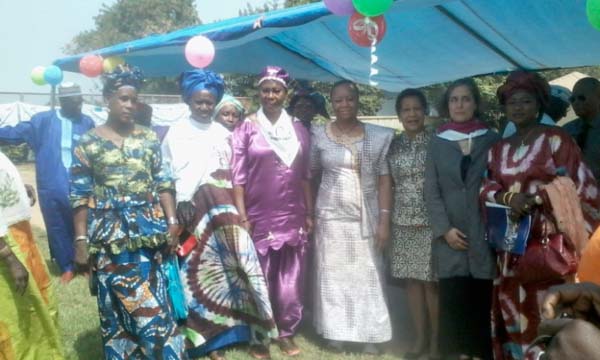 GAMCOTRAP, a local women rights organisation, Saturday celebrated International Day of Zero Tolerance for FGM.
The event at the Friendship Hostel in Bakau was attended by stakeholders in the End FGM Campaign, high profile diplomats, ex-circumcisers, women groups, and young people.
Dr Isatou Touray, executive director of GAMCOTRAP, said a lot of gains have been registered in The Gambia to eradicate FGM with the most recent historic actions taken by The Gambia government on 23 November 2015 banning FGM.
She noted that the commemoration of the International Day of Zero Tolerance for FGM is another important day for Gambian women and children as it brings new lease of life in the promotion of sexual and reproductive health and rights.
"Ten years ago, GAMCOTRAP led the first dropping of the knife in this stadium to celebrate the first group of 18 circumcisers and 63 communities.  At that time, we were not sure if we would witness the banning of FGM in The Gambia during our lifetime. Nevertheless, we mustered courage and patience to continue the advocacy despite the challenges we faced across the country," Dr Touray explained.
She said in the wake of the new legislations banning FGM in The Gambia, commemoration of Zero Tolerance for FGM will strengthen awareness creation and advocacy activities.
UN Resident Coordinator Ade Mamonyane Lekoetje said FGM, a harmful practice that violates the rights of women and girls, has been in societies for a long time. 
"We have our girls and women violated in the name of religion and tradition, leading to serious health and reproductive health consequences for them," she said.
Madam Lekoetje noted that the presidential pronouncement banning FGM in The Gambia followed by the enactment of an anti-FGM law will turn things in the country.
The banning of FGM in The Gambia shows the government's strong commitment to the implementation of the International Convention for the Elimination of all Forms of Discrimination against Women (CEDAW) and the International Convention on the Rights of the Child (CRC) as well as the UN General Assembly resolution for the elimination of FGM/C.
"The abandonment of FGM will play a pivotal role in the critical transition for the women and girls in The Gambia," the UN diplomat said.
She assured of UN's support to the abandonment efforts through programming support for women empowerment and advocacy pro-women policies.
US Ambassador Carolyn Patricia Alsup said on the commemoration of efforts to ban FGM, it is also important to know that there are countries that have anti-FGM laws but the political will to enforce them is not always present.
"We appealed to the states to follow the leads of those like The Gambia where legislation has recently been adopted and we hailed it as a really great step in the battle against FGM not only in The Gambia but worldwide," she said. 
Read Other Articles In Article (Archive)