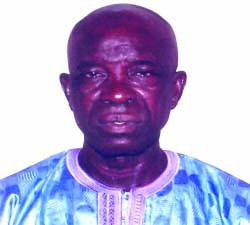 A two-week technical coaching course for the Gambia handball coaches is currently underway at the GNOC's headquarters in Bakau.
The training is organised by the Gambia National Olympic Committee (GNOC) under the German Sports Cooperation Programme.
Speaking to participants at the official opening ceremony of the course, Alhajie Momodou Dibba, president of the GNOC, expressed satisfaction for the handball association's coaches' participation in the course.
"I am happy that these experts are here to train you on Level 1 coaching course. As far as the GNOC is concerned, we will invest what we have to move you forward," said Dibba, who further challenged the participants to take maximum benefit of the course.
Dibba, whose office has set aside a series of coaching courses for various sporting disciplines,  said: "At the GNOC level, we have prepared a six-year programme for various sporting disciplines at the international level ranging from the Rio Olympic, to the Commonwealth Games, and the Gold Coast in Australia in which the handball association is no exception."
Dibba used the platform to challenge the association to do everything possible to get to higher level.
For his part, the course director from Germany, expected to lead the programme for the next two weeks, said he is very happy, as well as the German Embassy, for the GNOC for providing the opportunity to train the Gambian handball coaches and improve their knowledge.
 "You are not here as players for a training," he inspired. "You are here as coaches who will later distribute the knowledge to the athletes.
"Therefore, this course is connected with many hopes that the standard of handball in The Gambia will be uplifted to higher standard.
"You should take this course seriously so that at the end of the programme, you will receive a certificate which is recognised by the International Handball Federation and the German Olympic Committee
"Hopefully, you will be happy with the course and sooner or later, you will go in for the Level 2 Certificate."
The course director, who has promised to give the participants an intensive two weeks of training, commended all the parties involved in realizing the course.
The secretary general of the Gambia Handball Associating, Alieu Cham, in his remarks, said: "We are very grateful to the GNOC for organizing such a course for the second time."
He seized the opportunity to appeal to the GNOC to help the association in their bid to complete the pending handball league.
Beatrice Allen, 1st vice president of the GNOC, for her part, expressed delight at the presence of the German experts, saying: "We are really grateful that you are here."
She added: "We are also grateful that handball is able to mobilize all these talents to take part in this course for the development of handball in the country.
"We want to express our thanks and extend our appreciation to the Germans, especially my colleague Thomas Baa, who has been very supportive in terms of the GNOC's needs."
Ms Allen also showered special thanks and praises on Anita Martin from the Germany Embassy for what she called her significant contribution to the initiative, while asking her to extend the GNOC's profound gratitude to her working partners
Read Other Articles In Article (Archive)