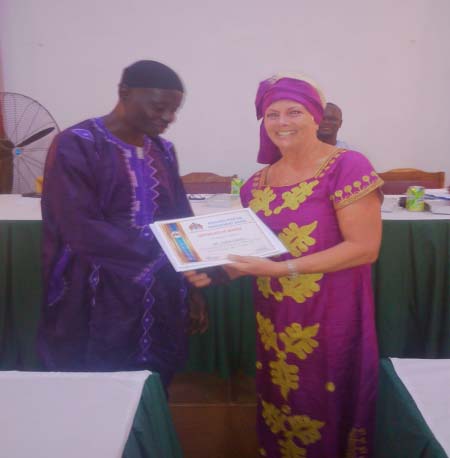 The management and board of directors of Bansang Hospital recently honoured 13 retiring staff who served the hospital for decades with commitment and hard work.
During the ceremony at the hospital's conference hall, the retirees, in their best attires, beamed with smiles as they received certificates and letter of appreciations for their decades of satisfactory service.
Speaking on the occasion, Kebba Kora, Alkalo of Bansang village, said the ceremony was unique for it was first of its kind in the history of the hospital.
He commended the management and board of Bansang Hospital for recognising staff who spent decades to improve health service delivery for the people of Central River Region and beyond.
"You have served this noble and humble hospital for decades without been found wanting; therefore, I commend you for your honesty, dedication and sacrifice in the service of the hospital," the Alkalo told the retirees while urging them to visit the hospital from time to time to offer advices where necessary.
Alkalo Kora commended Anita Smith, founder of Bansang Hospital Appeal (BHA), for her efforts in improving Bansang Hospital health service delivery.
BHA has been providing medicines, tractors for garbage collection, farming to support hospital feeding programme, construction of ward, sponsor of hospital's staff for treatment in UK, provision of equipment and tools for the maintenance unit, among other.
Baboucarr Saine, Bansang Hospital Administrator, said the ceremony is "a joyous occasion and at the same time is a sad one".
"It is a joyous occasion because we are celebrating the valuable contributions of these retirees," he said, adding that at Bansang Hospital has a team of dedicated staff, hardworking, discipline and committed to their duties.
Mr Saine said the farewell ceremony is testimony to the fact that the hospital management values its staff.
"We are aware of many organisations staff go on retirement but they have never been given the opportunity to say 'thank you' for their service," he said.
"However, we organised this ceremony to say 'thank you' to our retirees by giving them certificates and letters of appreciation for their years of hard work and commitment to the job, while assuring them continuous relationship," he explained further.
Ms Anita Smith, founder of BHA, thanked the retirees for their years of hard work, commitment and dedication towards the hospital.
Sandy Mendy, regional principal nursing officer, hailed Bansang hospital management for their initiative and urged retirees not to forget the hospital by paying a visit sometimes to see their other family members.
Dembo Keita, on behalf of the retirees, thanked the management for recognising their efforts to the hospital, saying that their hearts and souls will always be for the hospital
Read Other Articles In Article (Archive)