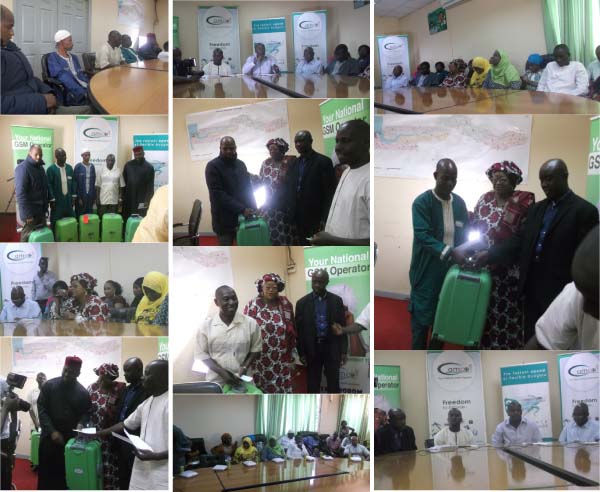 Gambia's National GSM Operator Gamcel Thursday presented Hajj packages to five lucky winners of its Hajj Promotion 2016, fulfilling its promise of helping the Gambian people.

The packages which included pocket money, allowance of one thousand dollars (US$1,000 equivalent to D44,000) were presented to each winner, including suitcases and all the necessary transactions involved in the hajj.
The winners were Bafoday Jabbie, Modou Dian Diallo, Alpha Jallow, Muhammed Banyami Sillah and Omar Bah.
According to Lamin Fofana, Manager of Marketing and Communication at Gamcel, their role is not only to create revenue - though their prime aim is to have money - but also they believe that such assistance as the Hajj package is highly needed in Gambian society, and "this is one way of doing it".
He thanked the Gambian people for their cooperation and patronage of Gamcel's services and products.
"I hope this continues as we endeavour to support worthy causes especially Hajj, which is a very important pillar in Islam," he said.
Aja Ndey Sainabou Jeng (Yaye Ministier) said this was not a surprise as the nation's GSM company has been rendering such assistance and help, adding that Gamcel is Gambia's own GSM company, hence helping Gambians is their priority.
She further thanked Gamcel for the "great initiative" in making Gambian Muslims at least meet one among the pillars of Islam.
She also thanked the winners, and all those that took part in the promotion, and prayed and wished them a successful Hajj.
Bafoday Jabbie, one of the beneficiaries, thanked Gamcel for the support they are giving to the Gambians, especially by giving out Hajj packages to fulfilling one of the pillars of Islam.
He said he would continue to pray for the company's progress and ceaseless expansion to every nook and cranny of the country.
The Almighty Allah, he said, would continue to bless and reward Gamcel as they support the people, especially the less privileged.
Other beneficiaries also expressed similar sentiments.
Read Other Articles In Article (Archive)