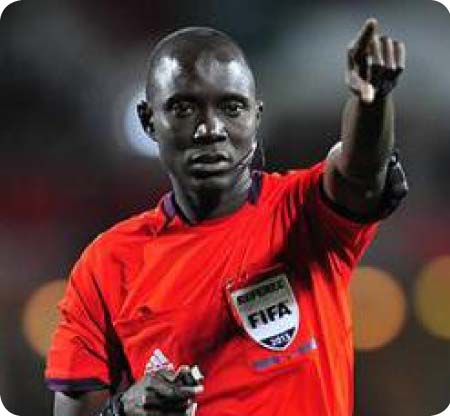 World football governing body FIFA has selected Gambian referee Papa Bakary Gassama as one of the 25 who will officiate at this year's tournament in Brazil.
Born on 2 February 1979, Papa is one of Gambia's outstanding referees who have officiated high profile matches in the sub-region and the continent.
Papa was awarded the 2011 SJAG Referee of The Year award. He was part of 84 officials appointed by FIFA who featured in the London 2012 Olympic Football tournament. He and Tunisia's Jedidi Slim were the two central referees from Africa.
The referees have been chosen from 43 different countries across the globe.
According to FIFA, the road to the 2014 FIFA World Cup began for an initial group of 52 trios of referees from all over the world in September 2011 when FIFA took the important decision to create a refereeing project.
One of the key objectives was match control and consequently to prepare this group of prospective referees for the 2014 FIFA World Cup. The referees selected for the World Cup in Brazil have been chosen based especially on their personality and their quality in football understanding, by being able to read the game and the teams' tactical approaches towards each game.
Between now and the World Cup, the selected group of match officials will participate in three seminars: February, March/April, and the last one ten days before the kick-off of the 2014 FIFA World Cup.
The selected referees and assistant referees will be followed and monitored regularly during this period, and FIFA is ready to give them all the support they need so that they can prepare for this important World Cup in the best possible manner.
Europe is the most represented continent on with 9 central referees including Howard Webb of England, who was in charge of the 2010 World Cup finals plus the controversial Turkish referee Cuneyt Cakir, who red carded Luis Nani in the champions league game between Manchester United and Real Madrid.
2014 World Cup central referees from their regions:
AFC: Ravshan Irmatov (Uzbekistan), Yuichi Nishimura (Japan), Nawaf Shukralla (Bahrain), Ben Williams (Australia).
CAF: Noumandiez Doue (Ivory Coast), Bakary Gassama (Gambia), Djamel Haimoudi (Algeria) and Daniel Bennet (South Africa).
CONCACAF: Joel Aguilar (El Salvador), Mark Geiger (United States), Marco Rodriguez Moreno (Mexico).
CONMEBOL: Enrique Osses (Chile), Nestor Pitana (Argentina), Wilmar Roldan (Colombia), Sandro Ricci (Brazil), Carlos Vera Rodriguez (Ecuador).
Oceania: Peter O'Leary (New Zealand).
UEFA: Felix Brych (Germany), Cuneyt Cakir (Turkey), Jonas Eriksson (Sweden), Bjorn Kuipers (Netherlands), Milorad Mazic (Serbia), Pedro Proenca (Portugal), Nicola Rizzoli (Italy), Carlos Velasco Carballo (Spain), Howard Webb (England).
Read Other Articles In Article (Archive)