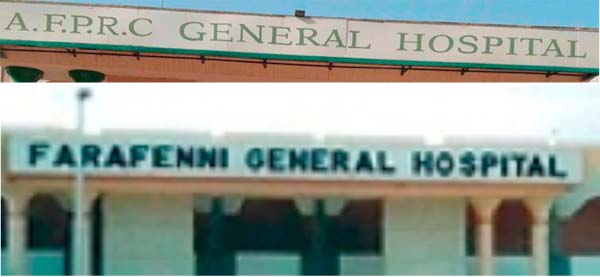 The government of President Adama Barrow is embarking on an exercise to rename or demolish any institution or structure that symbolises former president Yahya Jammeh or his coup d'état.

The latest exercise of an apparent effort to efface the memory of Gambia's renowned looting dictator Jammeh was in the health sector.
The Ministry of Health and Social Welfare yesterday issued a statement announcing the renaming of the three major health facilities that Jammeh had named after himself or his party, APRC.
The ministry said with immediate effect, the Jammeh Foundation for Peace Hospital in Bundung has been renamed Bundung Maternal and Child Health Hospital; Sulayman Junkung Hospital in Bwiam changed to Bwiam General Hospital, and AFPRC Hospital in Farafenni changed to Farafenni General Hospital.
"The general public is hereby informed that all correspondence to these hospitals should bear the new names," the ministry said.
Recently, the statue of a soldier holding a baby in the middle of the roundabout at the entrance of Banjul was demolished for it was seen as a symbol of Jammeh's 1994 coup.
Also, the large concrete wall at the entrance of the Ministry of Works, Construction and Infrastructure with the painting of Jammeh's portrait as well as that of the structures and facilities built by his regime has also been demolished.
The Point newspaper has understood that the Arch 22 and July 22 Square in Banjul as well as street names and anything reminiscent of the former regime are to be renamed very soon.
A local newspaper had recently reported that the permanent secretary at the Ministry of Works, Mariama Ndure-Njie, said the effacement exercise "is an executive directive aimed at wiping out the history of the former regime from the minds of Gambians".
Read Other Articles In Article (Archive)