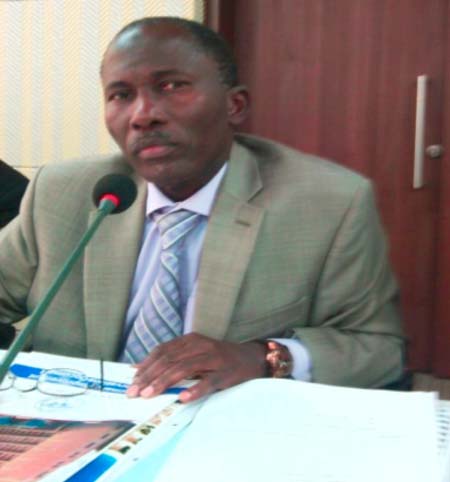 Central Bank Governor Amadou Colley has said economic activity in The Gambia in 2014 was characterised by two major external shocks.
The decline in agricultural production due to erratic weather did not only slow down growth, but also threatened food security, the CBG governor told the joint session of the Public Accounts Committee and Public Enterprises Committee (PAC/PEC) of the National Assembly, during yesterday's debate on the Central Bank activity report for 2014.
Giving an overview of Gambia's economy, Governor Colley said that in addition to the decline in agricultural production due to erratic weather, there was also the external shock of the Ebola epidemic in some sub-regional countries that hit hard on The Gambia's tourism sector.
"The Ebola epidemic led to the decline in tourism and related activities, as well as in cross-border trade," the CBG governor said.
"Economic growth slowed to 0.9 per cent from 4.8 per cent and 5.6 per cent in 2013 and 2012 respectively."
However, he said, with the abundance of rains in 2015 and the expected good tourist season, growth prospects for 2015 had been promising, as they were projected at 4.7 per cent.
Governor Colley further said the primary mandate of the Bank as enshrined in the Central Bank of The Gambia Act, 2005 is to achieve and maintain price stability, as well as ensuring a sound financial system within the context of supporting Government's overarching objective of achieving sustainable economic development and reducing poverty.
"In this regard, it is our resolve to support efforts to fix the current macroeconomic imbalances and restore growth and stability," he said.
Global economy
Governor Colley said the International Monetary Fund (IMF) did estimate global growth at 3.4 per cent in 2014, which was relatively unchanged from 2013.
He said the major indices for global growth were healthier-than-expected growth in the United States and the United Kingdom, supported later in the year by the drop in oil prices.
However, he added, "growth in Euro-Area, Japan and emerging and developing countries disappointed in 2014".
He added that global inflation generally declined with the sharp fall in oil prices being the underlying factor in both advanced and emerging markets.
"Global growth for 2015 is projected at 3.1 per cent and 0.3 per cent lower than in 2014," he said, adding that in sub-Saharan Africa, growth moderated to 5.0 per cent from 5.2 per cent in the previous year.
The CBG governor said further that the pace of expansion was slower as a result of subdued global demand, soft commodity prices, weak foreign direct investment flows, low business confidence and capacity shortages, especially infrastructure constraints. 
Read Other Articles In Article (Archive)