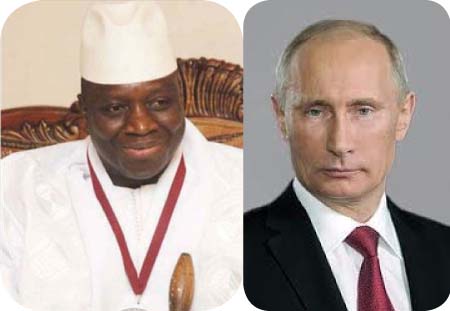 MOSCOW - Russia wants Africa to be more independent and become a vital pillar of a multi-polar world, Foreign Minister Sergei Lavrov said at a meeting with the Secretary General of the Gambian Presidential Administration, Momodou Sabally, on Thursday, May 15.
"Russia and Gambia have long-standing relations tested by time. Next year we will be celebrating their 50th anniversary. Since then cooperation has been developing steadily on the basis of mutual respect," Lavrov said.
"Like in the years of the fight for decolonization of Africa, we would like the region to be more independent and to become an important pillar of a multi-polar world that is forming now. We want the dialogue to be backed up by increased trade and economic cooperation," the minister said.
He noted that Russian companies were interested in developing offshore hydrocarbon fields in Gambia and cooperating in the field of fisheries. "We appreciate your delegation's visit and the mutual commitment to deeper ties and we will be looking for ways to move further in this direction," he added.
"Russia plays an important role in the political liberation of Africa," Sabally said. "Gambia is the platform for Russia to play a more active role on the continent", reported Russia's ITAR-TASS news agency.
Meanwhile, when the Gambian envoys returned to Banjul, GRTS television reported on their mission to Moscow. The tv news footage on Lavrov's meeting with Sabally revealed that the year 2015 will mark the 50th anniversary of diplomatic relations between Russia and The Gambia, which were established in 1965, and that this was announced in Moscow recently by Russian foreign minister.
It showed that Lavrov was speaking when he received the minister of Presidential Affairs, Momodou Sabally, accompanied by the minister of Foreign Affairs, Mamour Alieu Jagne.
The two visited Russia as special envoys of President Yahya Jammeh, a State House press release announced, adding that they "concluded a successful mission" to Russia, and were received in Moscow by Russian foreign minister Sergei Lavrov.
Jammeh's envoys "held successful deliberations on all aspects of the bilateral relations from 1994 to date," according to the news release signed by Minister Sabally.
"This visit has further deepened, expanded and cemented our bilateral relations with Russia in all aspects; a country that has been our strategic ally since 1994," the release added.
"We highly appreciate your visit, and we are going to explore ways to strengthen our ties and make them better," Lavrov said in the news footage of his meeting with Sabally, aired on GRTS television this week.
The visit further deepened bilateral relations, which have been developing based on mutual respect, Lavrov added, further stating that after the years of fighting for Africa's decolonization, Russia is now interested in Africa becoming more independent, and developing more actively it's economic base and resources.
"We want to increase our economic and commercial cooperation based on our political dialogue. Our companies are interested in our cooperating in a number of spheres, including the development of hydro-carbons on the Gambia's continental shelf. Fisheries and tourism are also very promising spheres. And another important element of our relations is education," the Russian foreign minister further pointed out.
According to the news footage, Sabally, in reply, told Lavrov: "I took note of your statements, which are very inspiring." He added that Russia has had a strong presence in Africa, and "played a fundamental role in the political liberation of Africa, a fact that is very much appreciated by The Gambia, especially our president."
He added that though a small country, The Gambia has been active in the international community, having served as president of the UN Security Council for two years, and recently as chairman of the AU Peace and Security Council.
Sabally added that, given the strategic location of the country, and knowing Russia's role in supporting the liberation movements in Africa, "we are offering ourselves as a platform for a more active role for Russia, given the fact that Africa is now regarded as the new frontier in terms of global economic activity.
Jammeh's envoy further spoke of "making sure that Russia, which has been a partner in the past, when it was difficult, becomes an even more significant partner, as African countries begin the process of exploiting their natural resources in a more significant way, and transforming the socio-economic situation on the continent."
"I bring a special message of gratitude and appreciation from the president for the role Russia has been playing in Africa, because my president is a very strong pan Africanist. I noticed in your statement you mentioned the concept of mutual respect in relationships – a concept The Gambia has been advocating in the current international set-up. This is the kind of relationship we value.
"We have a very strong tourism industry; we are well-endowed with fishery resources, and hydro-carbons. And in our search for credible and reliable partners, we believe that we could not have better strategic partners than Russia.
"We have enjoyed a lot of support from you. Students from The Gambia, especially our doctors, surgeons in the medical field were trained here in Russia. Still we have our Gambian students studying in Russia. We enjoy a lot of support and cooperation from you.
"We bring that message of gratitude, and look forward to an engagement that would be even more mutually beneficial."
Read Other Articles In Article (Archive)