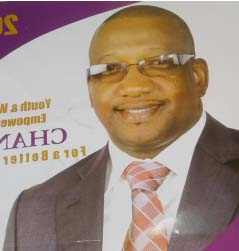 Mamma Kandeh, leader of The Gambia Democratic Congress (GDC), has said the diplomatic ties between The Gambia and other countries have been very poor.

He said most of the embassies have left the country, and if one is looking for a visa the person has to go to other countries.
The GDC leader made these statements on Tuesday, when he was addressing thousands of people in Gambisara.
He said government of the country needs to be changed for the better, adding that over the 22 years rule of President Jammeh, people are encountering a lot of difficulties.
"I think it is better for him to step down and give it to someone else."
Mamma Kandeh appealed to the people of Gambisara to vote for him so he could change the situation in the country and bring about meaningful development.
He assured the people of Gambisara that, come December 1s,t he would win the election, and if that happens he would bring a lot of development to the country.
Dilating on President Jammeh's Vision 2016, Mamma Kandeh recalled that the President announced that, come 2016, there would be no importation of rice into this country, but that is not happening.
He added that the idea is good, but he would like to tell President Jammeh that "he does not have the plan to do it" because the system needs a lot of money to run it.
Read Other Articles In Article (Archive)