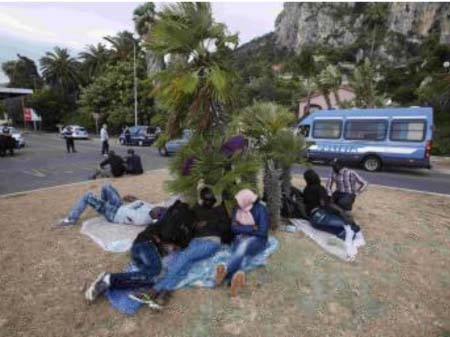 A group of ten undocumented Gambian migrants in Italy has been denied entry into France, after they attempted to do so without the required documents.
The undocumented Gambians, among majority Somalis and Eritreans, wanted to enter France, from Italy, through the border town of Vintimillle, on 12 June 2015.
The rejected youths are among a host of migrants who entered Italy through the Mediterranean sea.They are yet to be documented in Italy.
Our correspondent in Italy said there are more than a hundred undocumented migrants at the Italy-France border since Saturday, 12 June, wanting to enter France, but were rejected.
Some of the migrants said they are undergoing a hunger strike, and shall not leave the border until they are allowed entry into the France.
As for now, there is no indication that the French authorities will allow the undocumented migrants in.
The Italian authorities are not also allowing the migrants to leave Italy for any European Union country without the required papers.
The two governments are calling for more reinforcement of security personnel at their border posts to address the situation.
Even though other traffic remains open at the Italy-France border, undocumented African migrants are not allowed to enter.
Some of the denied Gambians who spoke to our correspondent said: "Italy is not a better place for us. So we must leave."
The migrants said they are now seeking help from the international community for them to be allowed entry in France, and be documented.
Some statistics have it that about 1,439 migrants have been detained and another 1,097 deported to Italy, from France, for lack of the required documents, within the last two weeks.
While thousands of African migrants continue to enter Italy, some find it a transit point to other European countries, but France has now put a stop to it.
Read Other Articles In Article (Archive)