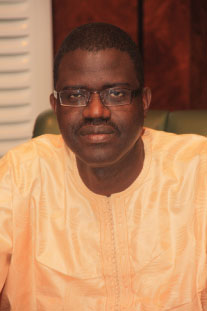 The case of abuse of office involving former secretary general and Presidential Affairs Minister, Dr Njogu Bah, was yesterday adjourned until 21 July 2015, for judgment before principal Magistrate MS Jallow of the Banjul Magistrates' Court.
Yesterday's proceedings saw the adoption of briefs filed by both the prosecution and the defence.
In adopting his briefs, the state prosecutor, Babuccarr Drammeh, told the court the prosecution had filed their address on 8 June 2015, and replied on point of laws on 18 June 2015 and filed on 22 June 2015.
He said they adopted the documents because they believed the prosecution had proven their case beyond all reasonable doubt to secure the conviction of the accused person.
He said by looking at the number of prosecution witnesses that testified in the case, and the credible evidence adduced before the court, it was sufficient to secure the conviction of the accused person.
The state had established elements or ingredients of the offence against the accused person for the alleged offence committed, he added.
"We therefore urge the court to convict and sentence the accused person as charged," he said.
Defence lawyer LK Mboge told the court that the defence had filed their final address on 17 June 2015, and adopted the same as final address for defence.
''Your worship we are strongly urging this honourable court to not only do justice to the case, but to see that justice has been done,'' he said.
There cannot be justice without speaking the truth, and it is only the truth that could set any one free, counsel added.
All that the accused person was asking the court to do was to deliver justice without fear or favour, and "the only justice in this case is to acquit and discharge the accused person to go home, because he has no case to answer," counsel further stated.
It would be recalled that the charge sheet against him presented in court stated that Dr Njogu Bah, sometime in June 2013 at the State House in Banjul, abused the authority of his office as Secretary General and Head of Civil Service by interfering with the recommendation and posting of Ms Jainaba Jobarteh to The Gambia's permanent mission at the United Nations in New York, without following the proper procedure of nomination, and thereby committed an offence.
The case was adjourned to 21 July 2015, for judgment.
Read Other Articles In Article (Archive)