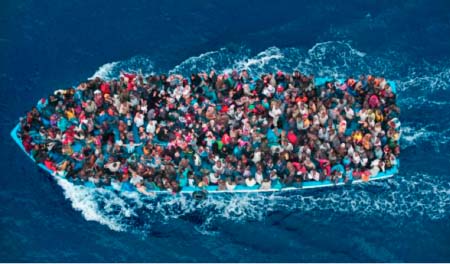 (Issue Tuesday June 28 2016)
At least 11 young Gambian boys, between the ages of 14 – 17, who arrived at the seaport of Pozzallo in Italy three months ago are in need of help.
The boys were supposed to be taken to a residence for asylum seekers upon arrival in Italy within 42 hours. But since they arrived in April, this year, they are at an emergency camp with little, sometimes, no help.
Some of them beg in the streets to be able to contact their parents and loved ones at home in The Gambia.
Shortage of basic maintenance at the emergency camp at Pozzallo has become a normal atmosphere since 2013.
The Gambian minors, and others at this camp, not only complain of the quality and quantity of food they are given, but also the sub-standard sanitary conditions at the camp.
Our correspondent in Italy said the migrants at Pozzallo camp are also very concerned, about why they are still stuck in an emergency camp that cannot render them neither good humanitarian services nor legal protections.
However, the camp officials said they are doing their best to serve everyone in the camp that is hosting more than 3,000 people, including women and unaccompanied minors like the 11 Gambians.
Under the migration rules of Italy, asylum seekers are supposed to be hosted according to their gender, age and condition.
However, the camp at Pozzallo hosts men and women together, with the men sharing the same toilet. Under such conditions, they all sleep together in two big halls with a single first-aid service.
Bottega Solidale, a pro-migrants association, said many attempts to see that the migrants at some of the camps like Pozzallo are moved to other more secured places are still not promising.
The association recently called journalists and lawyers together to explain to them the conditions at some of the camps, and the sufferings of the migrants at such camps.
They presently help the migrants with clothes, shoes and shampoo.
Read Other Articles In Article (Archive)