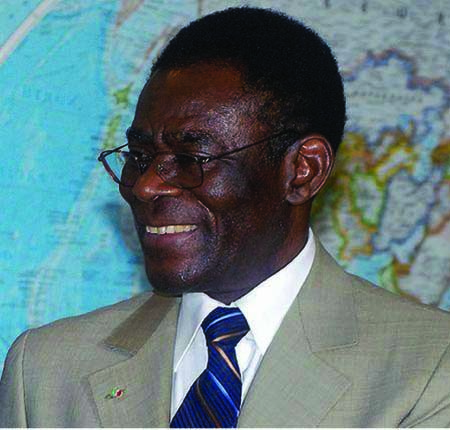 The president of Equatorial Guinea and current head of the African Union launched a scathing attack on foreign intervention on the continent on Thursday, saying moves to defend human rights had instead deepened problems.
Speaking at the opening of the AU summit he is hosting, President Teodoro Obiang Nguema Mbasogo also said the body was suffering financially and had to find its own funding to stop outsiders having to step in, and therefore have a say.
Obiang's thinly veiled criticism appeared to target NATO's operations in Libya, a crisis that is likely to dominate the two-day summit, alongside Sudan's imminent split and pressure on Africa's leaders to manage its surging youth population.
Analysts have said Obiang, widely criticised for rights abuses at home, is also keen to use his country's oil wealth to make up for the loss of Libya as a key source of AU funds, part of efforts to bolster his standing on the international stage.
Obiang said "extra-African agents" were taking advantage of a lack of African unity to interfere on the continent, either to defend the interests of other countries or individuals.
"As a result of these imposing policies, the interventions for human rights are nowadays causing a massive scourge to mankind in various parts of the world," Obiang said.
"Instead of giving solutions to problems, we are thus complicating and worsening world conflicts," he added.
The 68-year old leader rejected as "lies" foreign criticism of his country, which frequently highlighted the discrepancy between high per capita income and poverty levels. 
AU CONCERNS
AU Commission President Jean Ping said Libya was clearly going to dominate talks at the meeting and the AU's position remained that Libyans had to find their own solution to the problem and the country should not be allowed to divide.
The 53-member AU has complained that its efforts broker peace have been sidelined as the NATO-led bombing campaign continued and Ping called on leaders to find a single voice on the situation to ensure they remained relevant.
Obiang said the continent, rather than outsiders, should find the cash for the AU, as a matter of pride and also self determination. "He who pays gives the orders," he added.
Ping told reporters on Wednesday that the lack of funds was a problem but would not lead to the organisation collapsing.
Meanwhile, Brazil's former president Luiz Inacio Lula da Silva, invited as a guest of honour but also his country's representative, reassured leaders that Africa would remain a priority for Brazil under his successor Dilma Rousseff.
"The mindset is the same," said Lula, who oversaw a leap in diplomatic ties and trade, which stood at $20.5 billion last year, during his eight years in power.
Lula remains an influential figure in Brazil's Africa policy. "I will continue to knock on your doors," he said.
Read Other Articles In Article (Archive)