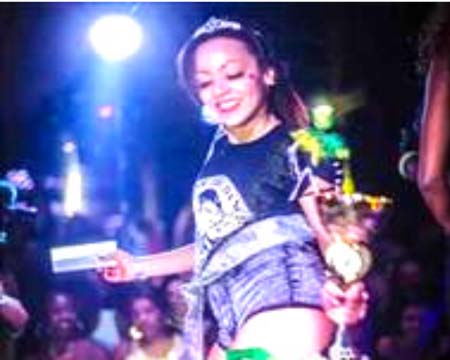 Binta Coker, Gambian-Swedish of Blackout Crew, from Stockholm, emerged the winner of the 2013 Euro Dancehall Queen Competition held on 25 October 2013 in Vienna, Austria.
Coker, a 24-year-old young lady, is an exceptional dancer who has managed to carve a niche for herself in this area and has been featured in many programmes and reggae festivals in Europe and the Caribbean, and Jamaica in particular.
"The degree of creativity Binta puts into performing in the view of many, was also a decisive factor in emerging as the choice in the competition.
"Not only did she dance with energy and attitude," according to the judges and fans, "but she dressed the part representing elaborate dancehall fashion."
"In round 1 she called her costume 'Demon Girl', Second round she dressed like a 'Belly Dancer', third round she was a Gangster Girl and the 4th and 5th round she represented Bogle aka Mr Wacky in MDzyn's Bogle T-Shirt," they added.
Binta performed with versatility and impressed the judges and audience with the expected queen-style-doing splits, head-tops wining and booty shaking.
About the Blackout Dance Crew
The young Coker, fondly called by her sobriquets as Binta Blackout, and friends, Squirrel, teamed up with Vendela Blackout, a Ghanaian-Swedish, to create the Blackout Dance Crew when they were both young. As owners of Blackout Dance Company, they are famous in Jamaica as Blackout Twins even though the duo is not related by blood. They have both been dancing since childhood.
In Blackout Dance Crew, they have created classes for people interested in dancing. They have also been arraigning trips for their students to Jamaica to learn more about the dancehall culture and history twice every year.
The duo also has dancing camps twice every summer for youths and performs alongside famous artistes.
But even in the music videos, they are seen with iconic artists. Their professionalism is such that they are often hired as judges for dancing competitions around the world.
Binta and Vendela have each won gold medals in National Swedish Dancehall Queen Competitions in 2008 and 2009 respectively.
Binta also won gold in Stockholm Dancehall Queen Competition as well as another dancehall competition.
The duo also won Europe's "Best Dancehall Queen Crew through an internet voting in 2011, and in this year, they also won Jamaica "Favourite Dance group" that was organised by Dance JA-Dance Jamaica.
In 2012, they were also nominated for the International Reggae and World Music Award (IRAWMA) that took place in Chicago, USA, as one of the six dance groups in the category "Most Outstanding Dance Group."
Although they did not win, but they are so far the only Swedish dance group that have ever been nominated in IRAWMA.
They have been seen on television both in Sweden and Jamaica in different TV-programmes and they were also the first pure dance group that were booked at Uppsala Reggae festival – a big reggae festival in Sweden.
These female dancers have been dancing and acting in many music videos, both in Jamaica, Sweden and other countries. Internationally, they are famous as a groundbreaking Dancehall Group.
In Jamaica, for instance, they are famous because they have been winning lots of big competitions.
They have worked with big artistes like Movado, Jo Mersa (Bob Marley´s grandchild), Aidonia, RDX, Popcaan, Konshens, I-Octain, Kiprich, Chi-Ching, Mr. Vegas, Chevaughn, Charly Black, T.O.K. Junior Reid, Beenie Man, Munga, Egyptian, Versetile, Trudy, Spice, Black Queen, Tommy Lee, Mr. Lex, Cecile, Christopher Martin, Ding Dong, Supa Hype and so on.
The duo also performed at Jamaica's two biggest festivals: Sumfest (2011 and 2012) and STING Festival (2011, 2012) and are billed to perform there in December 2013.
With this latest award, it is another feather in Binta's cap and a plus to the entire Blackout Dancehall Crew.
Her mother, Fatou Bakotou Touray, Managing Editor and Publisher of the Swedish-based TheGambia.nu online magazine, reacted happily to this latest achievement of her daughter; one that is to go a long way in further shaping her promising career.
Read Other Articles In Article (Archive)