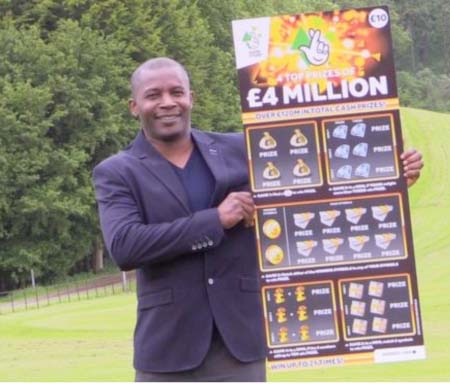 Forty-six-year-old Amadou Gillen, originally from The Gambia and residing in the United Kingdom for several years, has won a total of £4 million from a UK lottery on a scratchcard.
Thousands of Gambians are currently living in Europe and a good number of them are interested in playing the lottery in their various countries. However, Mr Gillen's success in that regard was never before known or experienced by any of them.
Such an unprecedented win from a Gambian national prompted The Point to contact sources around the area where Mr Gillen is residing.  The response was befitting.
Even though several West Africans are known to have won money from the national lottery, especially on a scratchcard, Mr Gillen is among the few who have won such an amount in recent times.
As usual, some of the British media have conducted coverage of the newly-famous Gambian man, and described him as one of the ''luckiest winners''.
This correspondent was informed on Friday by a shop clerk in the area that ''Mr Gillen is a very nice bloke who regularly says 'hello' with a smile''.
Others who are familiar with Mr Gillen said he is a ''hardworking man who was minding his own business, and also very friendly''.
Mr Gillen, who was until winning the cash working as a kitchen manager at The Albany Palace bar in Trowbridge, Wiltshire, reportedly told the press that when it was confirmed that he had won, he was ''screaming and dancing inside''.
Trowbridge is the county town of Wiltshire on the River Biss and not far away from Bath.
Mr Gillen also acknowledged that he had his ''provisional driving licence since 2009, but never been able to afford to have a car''.
However at the moment, he would want to get a simple Peugeot and then get a BMW X6.
The Point can also confirm that at the beginning of 2016, a road worker living in Northern Ireland won the same amount on a national lottery scratchcard.
However, since then it has seemed Mr Gillen is the only person who can be publicly confirmed to have won such an amount.
Read Other Articles In Article (Archive)