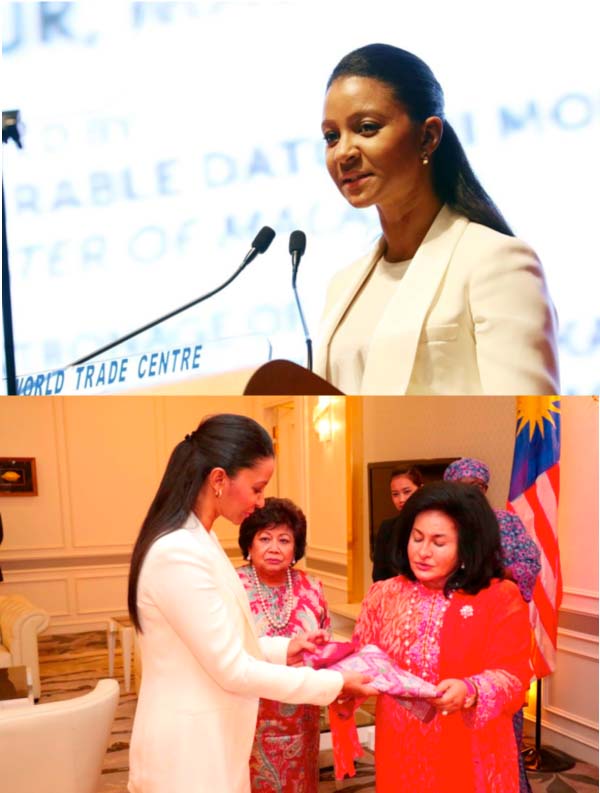 Her Excellency the First Lady of the Islamic Republic of The Gambia and Chairperson of 'Operation Save the Children Foundation', Madam Zineb Yahya Jammeh, recently attended the official opening ceremony of the Permata International Conference held in Malaysian capital, Kuala Lumpur.
The conference hosted by Her Excellency Datin Paduka Seri Rosmah Mansor spouse of the Prime Minister of Malaysia and Patron of the Permata programme, was held on the theme: "Children beyond tomorrow."
Permata has been established to ensure every child is given the opportunity to contribute to their countries' progress in line with its philosophy of "every child is precious" and "no child should be left behind".
For this reason, 29 nations represented by government officials and eminent personalities among them first ladies, heads of state and stakeholders on child matters and a record breaking number of 1800 delegates, the highest since Permata conference inception, gathered in Kuala Lumpur, Malaysia, to map out strategies and way forward to ensure a conducive environment for children.
The conference opening speech was delivered by the Prime Minister of Malaysia, the Honourabe Dato Sri Mohd Najib Tun Abdul Razak, whose spouse is the patron of the Permata programme.
He pointed out that all children have an equal chance to grow up and develop into productive caring citizens of the world.
He called for the creation of an enabling environment for the early lives of children.
Delivering a speech on "Quality education to shape a nation's future", Her Excellency the First Lady Madam Zineb Yahya Jammeh, who led an impressive delegation to Malaysia, said the Government of The Gambia places education at the top of its national priorities with huge investments in the delivery of quality education from early childhood development to university education.
She added that education is not only essential for meeting people's basic needs; it is also fundamental in fostering the conditions for global peace and sustainable development.
The Gambia's stride in the attainment of free education for girls was recognised and applauded during the conference, to which delegates expressed optimism that other nations can follow.
The First Lady's delegation included the Minister for Basic and Secondary Education Dr Fatou Lamin Faye, Minister for Health Omar Sey, Women's Bureau Executive Director, Fanta Bai Secka, permanent secretary and deputy permanent secretary at the Office of the First Lady, Halimatou Tambadou Jawara and Fatoumatta Gassama respectively. 
Read Other Articles In Article (Archive)