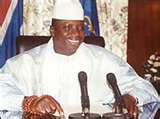 Following President Jammeh's promise to retain the senior national team head coach, Paul Put with or without sponsors before a jubilating crowd at the July 22 Square in Banjul many fans expressed their thankfulness to President Jammeh for his concern to have sports in the Gambia developed.
President Jammeh vowed that with or without sponsors Coach Paul Put will be retained even it mean he footing the bill personally.
Speaking to Pointspoint Buba Nyang said: "This gesture of the president will motivate the coach and his team officials as well as the players to tighten their belts for the next qualifiers. This will no doubt encourage others to built interest in supporting sports in the Gambia. This is timely and appreciated by all Gambians to see our able coach with great records for our country being retain to serve and continue his good job. For real Paul Put is doing a lot in trying to transform Gambian football.
In his part, Siaka Barrow of Jeshwang said: "We have seen many situations where the president dishes out money, plots of land and making victory celebration parties for our national teams. This is no surprise for me; I was really expecting this. Paul Put is a good coach. He is great! For me he is King Paul, the great."
Lamin Kaku Jabang the head coach of Gunjur Eleven said that the president is a man of humanity, who is always there to serve when ever the need arise. "We have been crying for a good coach but I think this is what we were looking for a good coach like Paul. We are very happy about the president's promise to retain him".
For a grateful Isatou Gaye we cannot thank the president enough. "We all know that the GFA alone cannot do it. We are really happy with the news that Paul Put would be retained. We don't want to lose him; he's changed our football totally. We owe him a lot and I believe that with the promise of the president to keep him the Gambia will be one day in the world cup".
Read Other Articles In Article (Archive)