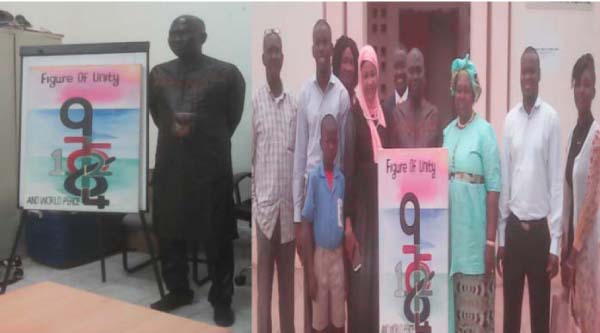 A 46-year-old Gambian has unveiled a symbol depicting unity as a strength to humanity in giving the world peace.

At a press briefing, held at GRTS on Wednesday, Yunusa Khan explained how he discovered it and the role unity played in making the new Gambia
Mr Khan said he was motivated to come with a drawing of a symbol that describes unity using numbers from 0 to 9.
He said unity was achieved by listening, understanding and loving each other for the world to attain peace.
According Mr Khan, the inspiration came when he was at his office. A secretary, Ursula Margaret Sagnia, came and said she wanted to tell him a joke about a student who was sleeping in the classroom and the teacher asked him to go to the blackboard and divide eight by two.
He divided horizontally to have two zero and further divided it vertically by having three.
Mr Khan further said through his experience as a project manager at Gamworks, he listened and interpreted what the student, who he named after his son Abdullah, was trying to do.
"He then joined with the number and finally formed a figure of unity that is very motivating to humanity. If numbers can unite to form peace, so can people," he said.
He said following his discovery on the 30th September 2013, he had being motivated by friends and colleagues who were inspired by seeing it.
He said that in his struggle to share his aspiration of unity with the world he contacted the permanent secretary at the Ministry of Basic and Secondary Education and the Director of Science and Technology by writing a proposal and later registering for copyright with the National Centre of Arts and Culture.
He described the figure of unity in making the new Gambia in which the figure 8 stood for strength and the coalition united with 8 parties that brought a peaceful change.
It commemorates the year of independence in 1965 which was brought together by unity of Gambians and symbolizes one Gambia, one nation and one people.
He said this creative artwork could be beneficial to human nature by putting in place structures that would attract tourists as a symbol of peace.
The event was graced by his family members, colleagues and friends as well as artists like Big Faal and Modou Njie of GRTS who gave remarkable thoughts on the great historical discovery by a Gambian man.
Read Other Articles In Article (Archive)