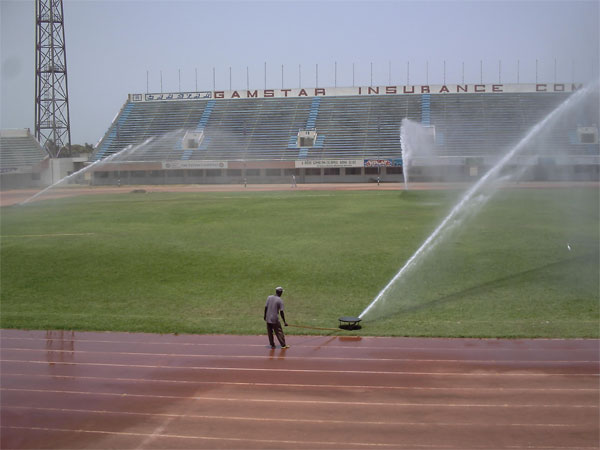 The final FIFA security inspection on the sports facilities in The Gambia hosting the preliminary rounds of competition for the 2010 FIFA World Cup by will take place early next month.
Information received from the GFA states that, Mr. Adnan el Guindy, FIFA's senior manager of competition services, will be FIFA's inspector for this mission.
Mr. Guindy will be arriving in Banjul on the 6th of May and is expected to leave on the 8th.
The final inspection is to check the implementation to the request made by FIFA on the facilities to be used during the qualifiers. The request includes such issues as the improvement of the pitch and toilet facilities.
Ahead of the inspection The Gambia is working on improving its sporting facilities in preparation to meet the dead line given by FIFA for the final inspections of facilities ahead of qualifiers for the 2010 World Championship in South Africa.
The management and staff of The Gambia's Independence Stadium are in high preparation to make sure that they have reached the deadline giving to them by FIFA.
When Pointsports visited the stadium to see how much progress has been made, we carried out an interview with the Independence Stadium Manger who also took us around the pitch and dressing rooms to see the improvements that have been made.
Mr. Musa Njie, the Stadium Manger, said, " we were advised to improve on our dressing rooms, toilets and the pitch. They said that the toilets should not be separated from the dressing rooms. But thank God that we have gone so far and even beyond that, we have also made improvements to the pavilions by painting and numbering them in colours which will help us to limit the number of spectators entering in each pavilions. Each pavilion will have its own ticket according to the colour," he explained.
He added that in each dressing room there are four toilets and four showers which have already been finished. "We have extra rooms also made for reserve, the FIFA rooms referees rooms are well intact too,"  he stated.
Read Other Articles In Article (Archive)