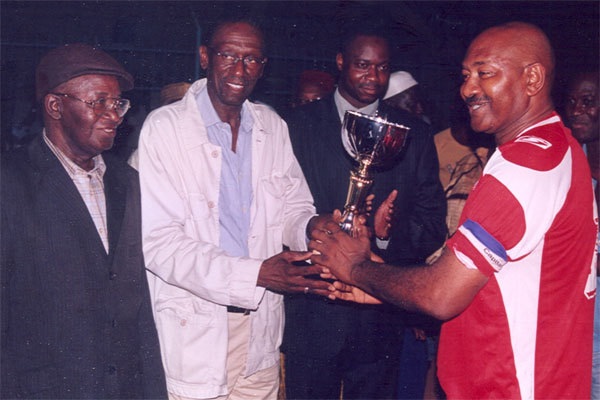 Over the weekend The Gambia Veteran Football Internationals clashed in Dakar with their counterparts of the Senegalese national teams of the past. The match was kicked off by Pape Oumar Kane ( President of the Government Council on Administration) on behalf of Dodou Wade (President of the  Liberal and Democratic Parliamentary group). Both teams comprised former national players coming from a wide variety of local league teams, including the best.
On the Senegalese side were former stars of Jeanne D'Arc , Diaraff, Dial Diop, Linguere, AS Douanes, US Goree, Espoire De Dakar and St Louisienne . Gambia responded with big stars from Black Diamonds, White Phantoms, Wallidan, Starlight, Hawks, Ports, Real de Banjul and Young Africans.
For those who might like to catch up with their old heroes, the composition of the teams is provided below.
The match opened to a slow start despite excited support from fans. The two teams were both cagey and cautious as they studied the other side. Senegal, playing a 4 -3-3 formation, started bursting into the Gambian half with some sharp moves and patterns, but Gambia seemed to contain the attacks very well with their starting defensive fixture of 4 - 4 -2.
Segga Sakho, former national star from Jeanne d'Arc and Diaraff successively, signaled threats from his left wing position, creating dangerous inroads towards the Gambian 18-yard area. But a defensive combination of Alieu Colley and Joe "Tennis" Gomez always succeeded in killing the attacks in time. The attackers were never able to reach Gambian Goalie, Malick Camara.
The Gambian defence was kept air tight, and in all of the first half goalkeeper Camara handled the ball only four times.
It was a different ball game on the Senegalese half. A very strong midfield of Ebou Debuwa, Star Jallow, Pa Ndow, and Essa Faye, maintained good supplies to forward Malamin Badjie and Abdou Jallow. However a very agile Senegalese goalkeeper from Senegal Armed Forces, Gasparr Gomis, effectively frustrated the Gambian attack with some impossible saves and agile goal keeping. He also acted as an additional defender, speedily intercepting long passes between the Gambian midfield and their front line.
The first half therefore ended goaless in an almost impossible goal- scoring situation at both ends of the field.
The 2nd half came with some new substitutions.
Senegal brought in a new goal keeper (Amadou Diop "Ami"), and two midfielders Ibrahima Sy (ex-Linguere) and Mamadou Diop (ex-Jeanne d'Arc). Gambia brought in Lamin Owens (exWallidan/Ports) and Habib Mboob (ex Ports/ Wallidan) on defence thereby allowing Joe "Tennis" to move up front to attacking midfielder. The game changed noticeably in favour of Gambia who kept the ball continually in the Senegalese danger zone. But they could not however score any goals, until the 80th minute when another fresh substitute, Baboucarr Sowe "Laos" capitalized on a through pass from Ebou Debuwa to score the only goal of the match.
The game ended Gambia 1 Senegal 0.
As explained by the Gambian team prior to their departure, the match was designed to smoothen relations between the two countries following the violence that occurred in Dakar in 2003. The match was arranged to take place prior to the return match of the Scorpions to Senegal for the World cup and African Cup qualifiers scheduled for 11th October in Senegal. The Gambian goodwill mission was fully covered on Senegalese television, radio and print media and included lots of live interviews and presentations involving both sides.
The match was graced by a large number of Senegalese dignitaries including Parliamentarian Hon. Dodou Wade, Permanent Secretary Ministry of Sports Mr. M'baye Lo, Senator Boubacarr Thioub, Vice President of Senegalese football Mr. Saer Seck, and Pape Oumar Kane who took the kick-off.

SENEGALESE TEAM
Goal keeper - Gasparr Gomis (Senegalese Army) - Dodou Ba (Espoirs de Dakar/Diaraff), Ibrahima Sy (Linguere Police), Pap Souleye (Niayes de Pikine), Oumar Sy (Niayes Police), Pape Drame (Jeanne d'Arc), Amadou Diop "BoyBandit"(Diaraff), BleckCisse (Mbosse Police), Baye Mousse Paye (US Goree), Momodou Diop "Boy Dakar" (Jeanne d'Arc), Segga Sakho (Jeanne d'Arc / Diaraff).
RESERVES:  Pape Mbaye (US Goree), Alioune Ndiaye "Gaucher" (Dial Diop), Saliou Cisse "Chita" (US Ouakam/ Ahmadies/ Black Diamonds Banjul), Mansour Wade (US Ouakam), Abib Seck (Diaraff), Falou Diop (Douanes), Segga Cisse (US Goree), Bara Diop (US Goree) Abdou Diallo (Police), Cheriff Sene (Jeanne d'Arc).
Coaches: Demba Thioye (US Goree),   Cheickh Thioune (St.Louisienne/Linguere)
Commentator: Lie Diaw.

GAMBIAN TEAM
Goalkeeper - Malick Camara(Waterside),
Defence to Forward : Buba Sonko(Waterside / Wallidan), Pa Ousman Ndow(Wallidan), Lamin Owens(Kwame / Wallidan/ Ports), Alieu Colley(Wallidan), Ebou Debuwa(Real FC), Star Jallow(Starlight), Joe Gomez "Tennis"(Young Africans /Wallidan),Essa Faye(Hawks/ Wallidan/ Ports), Abdou Jallow(Starlight), Malamin Badjie (Wallidan).
RESERVES
Habib Mboob(Freesin/ Wallidan/ Ports), Baboucarr Sowe "Laos"(White Phantoms// Wallidan), Aki Goswell(Young Africans), Abou Sarr "Poochie"(Waterside/ Ports), Madoun Senghore(Starlight), Badou Bajaha(Starlight), Modou Janneh (Phantoms), Assan Sarr "Challey"(Starlight), Abdoulie Ndure(Starlight/ Wallidan), Baboucarr Saho( Ports/ Mass Sosseh), Sulay Jagne(Waterside FC).
TEAM MANAGER : Baboucarr Joof "Njallah"(Ports).
TECHNICAL ADVISER : Momodou Njie "Biri"(Black Diamonds / Augustinians/ Wallidan).
Read Other Articles In Article (Archive)