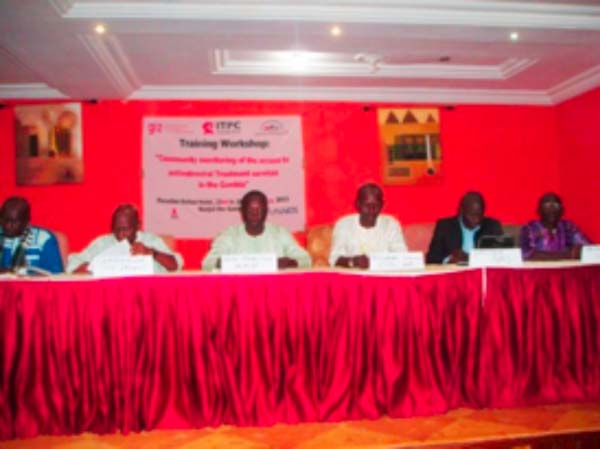 A-six-day training session organised for People Living with HIV by the Gambia Network of AIDS Support Societies and funded by the German Agency for International Cooperation, through the International Treatment Preparedness Coalition, commenced on Monday at the Paradise Suites Hotel.
The training activity has the theme: "Community monitoring of access to antiretroviral treatment services in The Gambia", and brought together 50 participants drawn from across the country.
In his statement, Bakary Tijan Jaguraga of World Health Organisation local office, emphasized the need for earlier treatment of HIV/AIDS, which he added brings the dual advantage of keeping people for long healthier and drastically reducing the risk of virus transmission to others.
Mr Juguraga said WHO issued its first consolidated guidelines for the use of antiretroviral drugs to treat and prevent HIV infection in 2013, adding that the guidelines are ambitious in their expected impact yet simplified in their approach, and firmly rooted in evidence.
He noted that they take advantage of several recent trends, including a preferred treatment regimen that has been simplified to a single fixed-dose combination pill taken once per day, describing it as safer and affordable.
He said the guidelines also take advantage of evidence demonstrating the multiple benefits of antiretroviral therapy.
"With the right therapy, started at the right time, people living with HIV can now expect to live long and healthy lives", he stated.
Mr Jaguraga pointed out that the guidelines represent another leap ahead in a trend toward ever-higher goals and ever-greater achievements.
Earlier treatment has further advantage of simplifying the operational demands on programmes, he went on, adding that the guideline recommend that pregnant women and children under the age of five years start treatment immediately after diagnosis.
He said the same once-per-day combination pill is now recommended for all adults living with HIV, including those with tuberculosis, hepatitis and other co-infections.
WHO would continue to provide technical inputs, advocate and support the delivering of quality services on HIV&AIDS, he added.
Omar Sey, Minister of Health and Social Welfare, in his opening remarks, said his Ministry on behalf of the government highly supports the initiative of GTZ, noting that the initiative is meant at achieving universal health coverage, which could not be achieved without the rightful beneficiaries benefiting.
He assured them of his Ministry's continuous support and collaboration without any reservations, noting that he has no doubt that the training activity is the right thing to do.
Musa Camara, GAMNASS National Coordinator, in his welcome statement said they all agreed with the idea of community treatment observations as a strategic response to the issues, and GAMNASS had since demonstrated commitment by establishing the Gambia Treatment Observatory Group.
GAMNASS is currently implementing a project called Stock Out Project (STOP), he added, noting that faced with challenging issues related to accessing antiretroviral treatment services, the STOP project allowed GAMNASS to conduct a rapid situational analysis whose findings confirmed their major concerns in terms of the quality of access to ART services.
Momodou K Cham, CIAM Director, said over 33, 000 people are living with HIV in The Gambia, describing it as a major public health concern.
"The socio-economic burden of HIV and AIDS on individuals, households, community and the state is very high," he said.
Read Other Articles In Article (Archive)