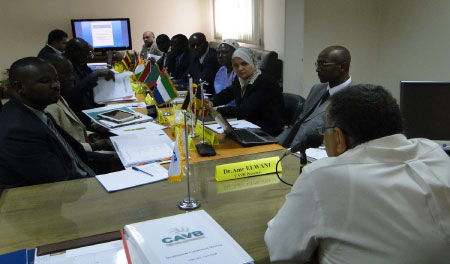 The president of the Gambia Volleyball Association (GVBA), Musa Cassa Taal, on Monday returned from Cairo, Egypt, where he attended a Confederation of African Volleyball (CAVB) Development Commission Committee meeting.
In an interview with Pointsport yesterday at his office, Taal said the CAVB Development Commission concluded its meeting in the Egyptian capital of Cairo on Monday with a lot of proposals that will be presented to the next CAVB board meeting.
Taal stated that the many important issues the commission discussed included the 2009- 2012 Strategic Plan, which registered 90% success and the new project to establish development centres in Cameroon and South Africa.
He further stated that the development commission committee also discussed the value of the implemented courses during 2010 and 2011, especially the national level courses, which helped a lot to integrate the efforts of those national federations in the three main categories of the course, such as the coaches, the referees and the management.
"We discussed also the equipment distribution plan and how to restandardize the requirements of each National Federation to get the highest benefit from these donations of CAVB including the balls, nets, outside and indoor courts," Mr. Taal pointed out.
He said the new project "African dream" includes all items of benefiting to the project, such as coaches, players, schools, competitions, sponsors and equipment.
He also discussed the partnerships with the other continents of the world.
The CAVB meeting was attended by the vice president, Gen. Idriss Dokony, who showed the Development Project proposals.
According to the proposals, the CAVB will communicate with the ministers of sports in all continental countries in order to start a new era with the local authorities in the continent, which will reflect positively on sport.
CAVB President Dr Amr Elwani concluded the meeting thanking all the participants for their input during the meeting and the value of such a meeting to improving the development procedure in all the NFs, especially category 1 and 2.
The meeting was attended by CAVB President, CAVB Board Supervisor for Development Gen. Idriss Dokony (TCH), CAVB Development Commission President Nsiwu Sadik (UGA), Secretary General Ahmed Khanou (SLN), and the members such as Sanga Kone (CIV), Paul Atchoe (GHA), Musa Taal (GAM), Frederick Ndlovu (ZIM), Salah Eldeen Almola (SUD), CAVB Coaches Commission President Sherif El Shemerly, CAVB Executive Director Mrs Howyda Mondy, CAVB Beach Director May Alaa and CAVB Finance Director Ahmed Elsherif
Read Other Articles In Article (Archive)