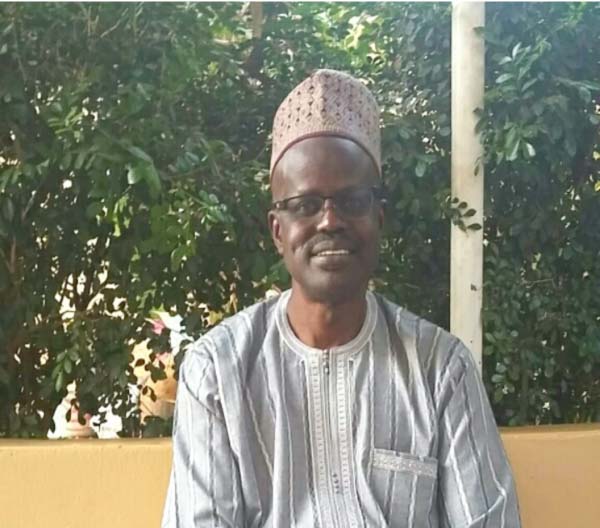 One of the defining characteristics of Yahya Jammeh's 22-year rule in The Gambia was a widespread fear of speaking out. Those that dared to criticise the repressive regime knew they would likely be intimidated, arrested, or even disappeared.

This was enough to persuade most to keep quiet; but not all. Baba Leigh, chief Imam of Kanifing East Central Mosque, refused to be silent when he saw human rights abuses being committed by the regime of Jammeh. For standing out against injustices, the renowned Imam and activist was arrested and tortured while in custody on a number of times.
Imam Baba Leigh said the worst abuses he endured were in 2012 when he was detained in one of Jammeh's notorious prisons for six months. After his release in 2013, the Imam went into exile in the US where he continued to speak out.
He only returned after Jammeh's regime finally came to an end this January. Jammeh lost the 1st December 2016 presidential election and, amidst sustained regional pressure, he eventually stepped down the next month. A new coalition government led by Adama Barrow is now in charge.
Three months on from this momentous transition, 'The Point' newspaper caught up with Imam Baba Leigh to reflect on his experiences under Jammeh and outline his hopes and fears for the new administration under a New Gambia.
The Point: Why and when did you start speaking out against former President Jammeh?
I have been speaking since 1994 when the military junta took over. I always speak truth to power that is what put me in jeopardy. I have been condemning the bad deeds of previous regimes and I am determined to continue speaking out.
The Point: How many times have you been arrested?
The first was when I condemned the unnecessary expenditure of public funds by Jammeh's regime; that was in 2002. I was also detained in 2012 when the president decided to execute inmates [on death row]. I advised him not to do that because he will not gain anything if he executes them, but he went ahead to execute nine of the inmates in August 2012.
I denounced the execution. In subsequent months, I was receiving anonymous calls asking me to leave the country because my life was in danger; the regime will eliminate me, I will be killed. But I decided not to go anywhere even though many international organisations advised me to leave the country.
The Point: Can you recall the day you were arrested?
I can fully remember; I was picked up around 11.30pm by two men from the National Intelligence Agency [NIA]. They said I was wanted at the NIA.
I was then taken to a cell, and later eleven men from the so-called "Black Team" came and started torturing me continuously asking me questions like why I hated President Yaya Jammeh and why should I be the only Imam going against him.
On the ninth day of continuous torturing, some advised me to rewrite my police statement to say that I was misquoted by the journalist so that they can set me free. But I told them I could not do that because the journalist didn't misquote me. They transferred me to the so-called Bulldozer [a detention camp], then to the Old Jeshwang prison where I ended up spending six months.
The Point: What was the gravity of your torture?
I really don't want to go into those things because it renews my anger. But yes I was definitely subjected to all inhumane tortures, bullying and what not. I don't want to go into many details for now because I want to reserve those details till the former President Yaya Jammeh is arrested and maybe I will use it as a witness at least as one of his victims. But really there is no type of inhumane torture you can count that I was not subjected to.
The Point: Why were you released from there all of a sudden? Was there a change in your stance?
No. I had not changed anything. I believe they had no choice as the local and international pressure was too much on them.
The Point: Did they tell you why you were released?
No. On the evening of 10 May 2013, they picked me up from my cell. One of them told me that I was going to meet the president. I was received by the then Secretary General Njogu Bah. He told me that the president has pardoned me out of his generosity and sympathy for my family. He also said that I have to keep quiet and thank him for his show of mercy and forgiveness.
I responded that I was not asking him to forgive me, because I have not done anything. There was a team of mediators and religious elders trying to convince me to comply to keep quiet when I am released. I could not accept the terms.
They got fed up of my stubbornness and I was subsequently released. No sooner did I reach home than I saw on the news on state TV the same incident, with my voice muted, saying that I thanked the president for releasing me. It was all a lie.
The Point: Did you ever regret speaking out against Jammeh?
I have never regretted it because I believe the longest day must come to an end. The Quran also teaches that the truth should prevail no matter what. Great men are singled out in history because they sacrificed more than anybody. I knew the consequences will be severe, but I believed it was worth it. It was not easy to fight a dictator. It has never been easy to speak truth to power.
The Point: Would you continue to speak out publicly against the new president, Adama Barrow?
I only speak publicly against leaders when I have no access to them. When a leader opens his door for you then, under Islam, you are not advised to denounce him in public no matter what he does.
I might not easily have access to the president, because he is a very busy person. He is not a president of one person alone but a whole country. But as we all know, this new civilian government is made up by Gambian ministers who are colleagues and easily accessible. This is the beauty of democracy and civilian government as one will have access to all.
The Point: What are your expectations of the new government?
I am expecting to have a very hard working government of the people. We all know Adama Barrow became president as a result of the coalition, which means he is the people's choice. That is why we will keep reminding them of their responsibilities and the expectations of electorates. Otherwise, we will be heading back to where we came from. There is a saying: ''power corrupts, but absolute power corrupts absolutely''.
The Point: What is your advice to the new government?
My advice to them is to be more transparent and not to forget about their responsibilities, especially putting to memory Yahya Jammeh's brutal regime and his team of criminals who tortured, embezzled and killed. The moment that memory is renewed, there will be more concern for our future. Leaders should be doers. Do more and talk less, like Macky Sall, the president of Senegal.
The Point: What's your advice to Gambians with regards to the new government?
My advice to Gambians is to be more patient, this is a new regime. In fact, most of them never had any experience in their positions before. We need to pray and offer guidance to them where necessary, not be praise singers for them.
Let us know that Gambia is one nation. You can be Mandinka, Fula, Jola, Manjago, Aku or Serahule but know that you are also a Gambian. The Gambia does not belong to one single tribe. Let us not also think we can make this country an Islamic republic or Christian republic.
The Point: What's your opinion of Gambia's religious leaders who stayed silent under Jammeh?
The imams of Gambia have learned their lesson as they allowed Yahya Jammeh to control and manipulate their religion. The imams are also citizens and they will take up their responsibility to guide this country, not just for worshipping but also to pursue social justice in their sermons when necessary.
The Point: Do you have any final comments?
I cannot complete this interview without sending a message across to the diaspora and the media because it was their collective efforts that paid dividend. They contributed a lot to the democratisation of the New Gambia. We are now harvesting the seeds we planted. One Gambia, one nation, for a better future for all.
Read Other Articles In Article (Archive)