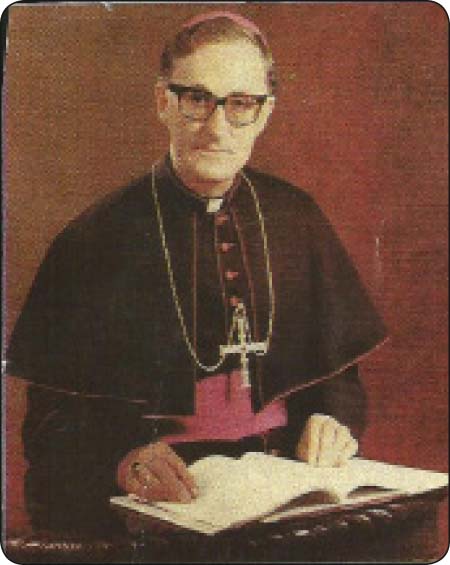 Friday, 13th March 2015 was a red lettered day in the history of the Church.On this day a farewell mass was celebrated at the St. Theresa's Church, Kanifing.The celebrant was Bishop Robert Ellison together with a lot of priests of the diocese and many people.During the homily Bishop Ellison thanked God for sixty-two years of Bishop Cleary's presence in The Gambia.He also noted the good work that the retired Bishop did.
The ceremony which was both solemn and emotional saw many people honour and pay tribute to Bishop Cleary for his good services in the area of the pastoral work of the Church, education and inter-Church and inter-Faith relations.
Bishop Michael Joseph Cleary was the second Bishop of the Catholic Church of The Gambia.  He was ordained a priest in 1953 and on the 29th October 1954 came to the Gambia as a Missionary.  As a young priest sent to the mission land of the Gambia, his assignment was a teacher of mathematics in St. Augustine's High School.  He taught in St. Augustine's for twenty-five years out of which he also served as principal of the school for seventeen years.  In school he had as students elderly statesmen now like Mr. Geoffrey Renner, Tony Carvalho, Tony S. Njie, Pa Adnrew Sylva, Alhaji Kabba Jallow (Accountant), Omar Jallow (Politician) and Mr. Philip Bensouda.
In the Catholic Church Bishop Cleary served as Education Secretary from 1978-1980.  He was ordained as Bishop on the 25th March 1981.  He became the longest serving Bishop of the Catholic Church in the Gambia as he served for twenty-five years.  During this time, he worked hard to expand the outreach ventures of the Catholic Church to the provinces by building up communities and Church structures.  He was re-nowned for having a vision of recruiting Gambians into the Catholic priesthood so that the Church can be called a local Church.  Between 1985-2009, he ordained fourteen priests.  His heart has been to see indigenous Gambians take up the Church from the Missionaries.  Today in his retirement he partially has realized his dream but that of a Gambian Bishop is yet to come.
Bishop Cleary was a very influential leader who made friends with authorities of State, Muslim leaders and Non Catholic Christian leaders.  He had served the Gambia Christian Council for twenty years or more in forging good Christian relations.  With the Muslim leaders, he had embraced former Imam Ratib, late Abdoulie Jobe and his assistant then, Imam Tafsir Gaye.  Both Christians and Muslims revered the life and example of Bishop Cleary.
Bishop Cleary left for Ireland his homeland on Saturday, 14th March 2015 so that he can have a good medical care and attention as he already attained the age of ninety.  To a good missionary of God who made a great impact in the Gambia and in Africa we can applaud his life of service and render the evangelic admonition of "well done good and faithful servant inherit the kingdom prepared for you since the foundation of the world" (Matt. 25:34)  
Read Other Articles In Article (Archive)