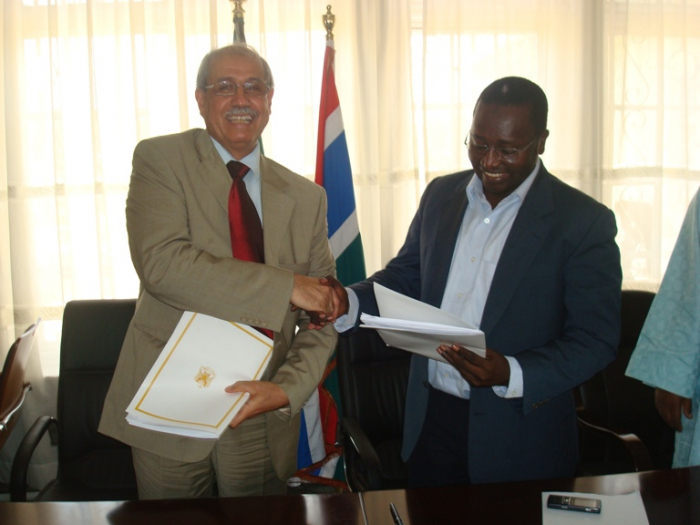 The Libyan Embassy in Banjul has signed a Memorandum of Understanding (MOU) with the Gambian government on agriculture.
Speaking at the signing ceremony at the Libyan Embassy complex on Tuesday the 11th May 2010, the Libyan Ambassador to The Gambia, Dr. Ali Muhammad Dukaly said that this MOU is geared to boost agriculture and food self-sufficiency in the country.
"In the light of this, the two countries are strengthening the relationship in achieving the food self-sufficiency of both countries," he said.
A happy Ambassador Dukaly said that he is happy that the "green programme is been signed between the two friendly countries."
He said: "I am happy to announce the signing of this agreement of the Green Programme. I am happy it is been implemented."
He extended greetings from His Excellency, Brother Muhammad Ghadaffi with reference to the launching of the "Green Programme" within the streets of the Sahara to improve food self-sufficiency.
Ebrima O. Camara, Secretary to the Cabinet, represented and signed on behalf of the Gambia government.
Mr. Camara said that agriculture must be given priority as it promotes self-food sufficiency.
"It has always been President Jammeh's belief that before a country attains prosperity, agriculture should be the answer."
"Ultimately food sufficiency is what we mean. It is gratifying to know that the president is an example to emulate in line with farming. I have not seen any president who spends his vacation on the farm. Libya is the one he knocks on their door for agriculture. Today we launch the Green Mechanical Programme,?"he said.
He revealed that the first series of assistance they are receiving are tractors.
"The first series of assistance we are receiving on behalf of the government is ten tractors for farmers to work on the farm.
Special thanks to Brother Muhammad Ghadaffi for his gift to his brother, President Yayah A.J.J. Jammeh,? he noted.
Read Other Articles In Article (Archive)