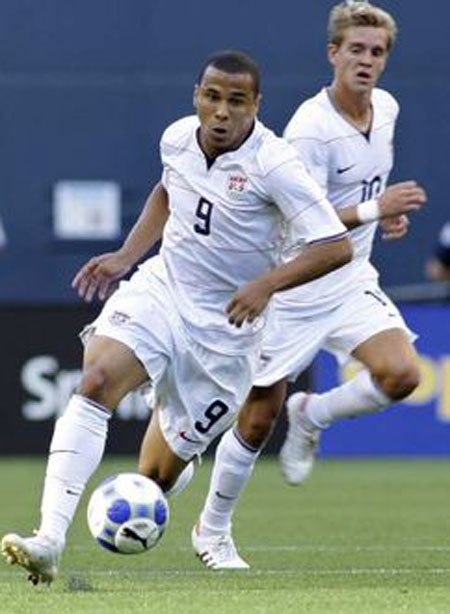 Gambian and US based Charlie Davies' bid to make the US World Cup team seven months after he was nearly killed in a road accident fell short on Tuesday when he was left off the US preliminary 30-man squad.
"Charlie has shown so much heart in his work to get back from his injuries," US Coach Bob Bradley said as he announced the squad on a live television broadcast.
"We've monitored all his workouts. We've had people there. We've observed him and he remained part of the consideration right up until Tuesday."
Davies is the son of Kofi Davis, former Gambian superstar and captain of the legendary Benfica Club of The Gambia in the 1970's.
The US team is to gather next week for training camp and Bradley will select his final 23-man squad for the finals in South Africa before the Americans depart on May 30.
The US are drawn in Group C with England, Slovenia and Algeria. They will open their campaign against England on June 12.
The 23-year-old Davies, who was in his first season with French club Sochaux when he was hurt in the crash in Virginia that left another passenger dead, had worked strenuously to come back from multiple injuries.
But Bradley said US officials had learnt from his club that he hasn't yet been given full medical clearance, and therefore wasn't given a release to join the training camp.
"So, when we put that together with everything we just felt that right now, Charlie, it's in his best interest to continue his rehab and continue so that he can get back to the level that he was playing last year before the accident," he stated.
Midfielder DaMarcus Beasley, a veteran of the 2002 and 2006 World Cup teams, was selected even though he hasn't started for Scottish champions Rangers since March 9.
Houston forward Brian Ching, who's sidelined since a hamstring injury April 1, was also named.
Two unexpected forwards were Edson Buddle of Los Angeles Galaxy, and Herculez Gomez of Mexico's Puebla.
The Americans have two home friendlies scheduled against Czech Republic in East Hartford, Connecticut, on May 25 and against Turkey in Philadelphia on 29th before they depart for South Africa.
Read Other Articles In Article (Archive)