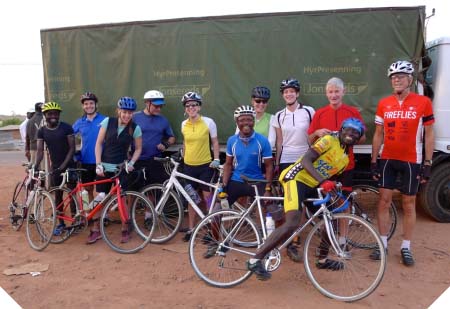 Twelve cyclists that took part in the first 'Gambia-Sand to Sea' Challenge over the weekend successfully completed their two-day ride from Basse to Fajara, arriving at the MRC gates at 5.45 PM to be greeted by a large crowd of supporters, friends and colleagues.
In an interview with The Point, Terry Bishop said the whole group reached the finishing point safely, adding that the total distance covered was 369km and the average speed while riding was over 23km per hour.
They had very few problems and no accidents, he noted, saying they also enjoyed the smooth surface of the South Bank Road from Soma to Fajara on the second day.
He disclosed that the group included two well-known Gambian athletes, Musa Fatty, who had cycled for his country with the Gambian National team, and Lamin Sanneh, a talented and successful runner and five times winner of the Brufut Marathon.
The ride took place in aid of the Chain of Hope charity, which had already provided free cardiac surgery for well over 30 Gambian children suffering from life-threatening heart disease, he disclosed.
Three of these young people were at the welcoming ceremony on Sunday, now fit and well, he added.
He revealed that apart from raising money for the treatment of children in the future, the Sand to Sea ride was intended to raise public awareness of the problem of cardiac illnesses in The Gambia, and to develop local capacity in diagnosing and managing heart disease in children at present.
Many patients have to make the difficult and expensive journey to Dakar for an echocardiograph test and open heart surgery could only take place even further away, in Egypt or Europe, he said.
He said the Chain of Hope is also helping with local capacity development of cardiology services, adding that Dr Lamin Jaiteh, a young clinician at the EFSTH, had just returned from six-month cardiology training at the Aswan Heart Center in Egypt.
"He is now eager to further his training and specialize in cardiology," he disclosed, saying that in February, Rahmatulai Maane, a junior radiographer at the MRC, will also be going for training to Aswan to learn echocardiography, the specialized medical technique for looking at heart defects.
This first Gambia-Sand to Sea ride has so far raised over D500,000 for the Chain of Hope, all of which will be used to support Gambian children with heart disease and their families, he said.
Read Other Articles In Article (Archive)