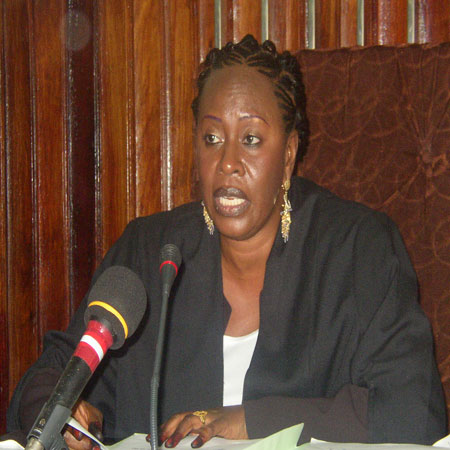 The Department of State for Health, in collaboration with The Gambia Diabetes Association, last Friday celebrated world diabetes day at the Nation Assembly complex in Banjul.
The theme of this year's commemoration is raising awareness of diabetes in children and adolescents.
Delivering her keynote address at the occasion, the speaker of the National Assembly, Hon Fatoumata Jahumpa Ceesay, said diabetes is a silent killer noting that non communicable diseases such as diabetes, hypertension and high cholesterol are becoming leading causes of mortality and disability.
She stated that diabetes is a growing epidemic that threatens to overwhelm the healthcare service and undermine economies worldwide.
She called on the diabetes association to sensitise the NAM's on diabetes adding that the National Assembly is ready to support the association.
Dr Malick Njie, Secretary of State for Health and Social Welfare, said diabetes is a life threatening condition that is caused by too much sugar in the blood. He said that it is a chronic condition that arises when not enough insulin is produced or when the body cannot effectively use the insulin produced. He added that this leads to a rise in glucose levels in the blood, resulting in complications such as kidney failure, damage of the limbs and eye disease leading to blindness.
For his part, the World Health Organisation representative in The Gambia, Dr Thomas Sukwa, pointed out that Government has a role to play by creating supportive and enabling environments, such as a formulation of policies and strategies, for public action against diabetes. "We are happy to note that The Gambia has already initiated action in this direction and that the WHO will support The Gambia through DOSH in its efforts to develop a national non communicable disease policy," he said.
Others speakers at the occasion included Dr Alieu Gaye, president of The Gambia Diabetes Association and the ceremony was chaired by Salieu John.
Read Other Articles In Article (Archive)