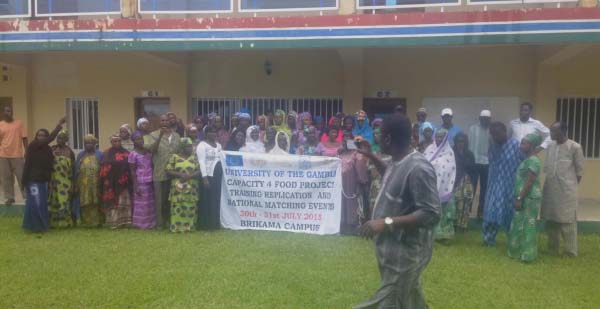 The School of Agriculture and Environmental Sciences of the University of The Gambia has conducted a two-day training on Integrated Soil Fertility Management (ISFM).
The event, bankrolled by the European Union through the Capacity4Food project, was held at the Science Park of Farababanta on 30 and 31 July 2015.
The capacity building programme was attended by staff and students of the university, and more than 80 farmers most of whom were women from Faraba and satellite villages.
The training focused on increasing the knowledge of the participants on integrated soil fertility management and how to foster national cooperation among the different actors – government, the private sector, NGOs, farmers and civil society organisations – involved in ISFM for food security.
University Secretary Jenung Manneh said the training was "quite fitting" in that it is taking place during the farming season.
He noted that maintaining soil fertility is of paramount importance if The Gambia is to be food self-sufficient.
The national coordinator of the project and head of department of the School of Agriculture and Environmental Sciences, Sainey Keita, in his overview of the project, said Capacity4Food project is being implemented by five universities in West Africa, namely Federal University of Technology, Nigeria; University of Dschang, Cameroon; University of Legon, Ghana; Njala University, Sierra Leone, and the University of The Gambia.
He said the University of Alicante, Spain, is the overall coordinator of the network.
Mr Keita said the overall objectives of the project include enhancing regional networking in ISFM, which will focus on food security by setting up a regional network of Centres of Excellence in ISFM for food security in partner universities.
Another objective of the project, he said, is to develop targeted activities in ISFM for food security at local level with a view to increasing universities' capacity building in sustainable food production.
On the second day of the workshop, series of presentations were made by staff of the school and two invited guests in the person of Ansumana O. Jarju, director general of the National Agricultural Research Institute, and Landing Sonko, deputy director of agriculture.
Each presentation was followed by interactive sessions during which questions, comments, contributions were made.
Read Other Articles In Article (Archive)