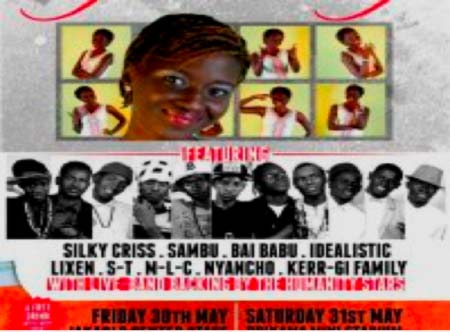 "The Gambia music industry is certainly growing, but still has a long way to go and we should works collectively to improve it," music promoter Abdoukarim Waagan Fye said.
He told the Entertainment and Lifesyle during Fiila fourth year anniversary on 30th May, 2014 at Jakarlo that Blacklynx through Fiila and Open Mic and other platforms will keep on being a strong pillar for local music; they will keep on doing what they have been doing that is supporting local artistes and their music.
The anniversary attracted stage performance from artistes like Silky Cris, Sambou, Lixen, ST, Bai Babou, Kerr Gi Family, Nyancho, Idealistic, MLC, T Smallz, Vypa backed by Humanity Starz.
According to him, during five years they have been able to make lots of achievement like making local music accepted and known to the public.
He said they are now trying to dedicate it to the relatively-less big artistes and that is definitely the impact they are looking at more for the Fiila.
He added that this will give them the platform for a stepping stone to get to higher heights.
"We created platforms like monthly Open Mic that goes from hood to hood; the Fiila TV show that portrays the works and performance of our local artistes even those abroad, and our yearly Open Mic festival that features dozens of Gambian artistes," he continued.
He added: "We plan to turn Fiila TV show to a television network, but we have constraints of production costs, sponsorship."
He urged Gambians to support the local artistes, especially in patronizing them in their shows.
  "I would not called it very successful for what I was hoping to get, but people seem to have fun and the performances went great; so thank God", he said.
He said the success of the show was due to hard work and dedication over the years; he however harped on the financial constraints they have faced in staging the shows.
Waagan finally thanked the media and all their partners in development for their immense contribution to the success of the shows. 
Read Other Articles In Article (Archive)