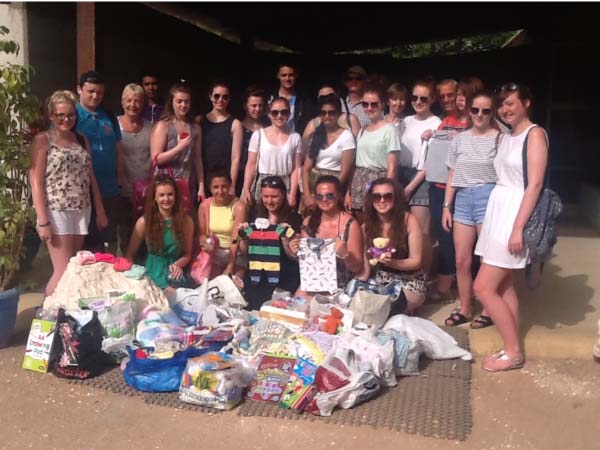 Students from Carmel College in England led by Mrs Perpetua Jones, a teacher at the college, over the weekend visited and donated learning and teaching materials to Kuloro Nursery School in the West Coast Region.
The college delegates also gave the school a new facelift by putting a fresh coat of paint on the school's classrooms.
At the presentation of the materials, Mustapha Jobe, the link co-coordinator who also doubles as the president of the National Tourist Guides Association, said he met Mr and Mrs Jones when they came to visit The Gambia for the third time.
After several correspondences, it was agreed that they would raise funds to support schools and students in The Gambia.
As professional tourist guides, they encourage tourists to support Gambians, particularly children, Jobe asserted.
The link supports the education sector through a local NGO called GOAL for Gambia, through providing learning and teaching materials to support schools, and sponsorship for many children, since the inception of the link three years ago.
Jobe thanked Mrs Jones and her delegation for the humanitarian gesture, and also commended the government for creating the enabling environment for private sector involvement in nation-building.
He also urged the beneficiaries to make best use of the materials.
Mrs Jones, who is a teacher at Carmel College in UK and doubles as the team leader, thanked the people of Kuloro and the tourist guides for what she described as a warm welcome, and the hospitality they received.
"We have been in The Gambia several times, and my husband and I have been coordinating and managing funds for the schools to be presented to the targeted beneficiaries," said Jones.
The UK students, Jones added, are excited to visit The Gambia and bring gifts for Gambian students, and hoped next year's donation would be bigger.
Trish Edwards, a general religious education teacher at the college, said the donation came from the students of Carmel College who contributed, whilst Emma Bell and her mother, Carole Forrest Bell, raised 360 pounds to sponsor a child in Kuloro Nursery School.
"My mother and I want to sponsor a child in the school, and we raised some money to pay for the school fees," said Emma Bell a   visiting student from Carmel College.
Read Other Articles In Article (Archive)