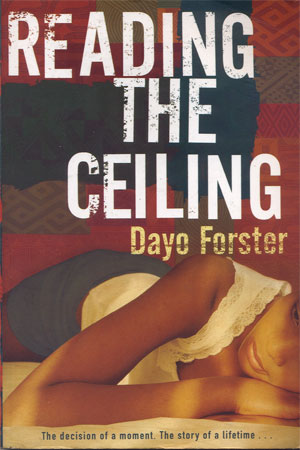 Set in contemporary Gambia and England, UK, "Reading the Ceiling" by Dayo Forster is a riveting novel that centres on the experiences of a Gambian female student who epitomises many of her generation. The narrative style being the simple present tense of the first person singular, the discerning reader would notice that the story is a representation of a typical experience, especially among career girls, though to some extent it deals with prevailing attitudinal realities.
Forster skillfully depicts an adolescent schoolgirl who, after transiting from the innocence of childhood into adulthood by dint of an amorous adventure, comes to realise the enormity of the challenges of the life of a grown-up. The task of making potentially far-reaching choices among a host of alternatives, after having been already prejudiced for the wrong or right reasons, confronted the main character, Ayodele, both at home and in far away England. In both phases the story shows how impressionable and, by extension, susceptible she has been, especially as regards romantic relationship.
The book details an account of the escapades of the average school-goer, particularly the outgoing, socialite girl who, out of curiosity and sheer bravado, goes against the proprieties and ends up exposing herself to complexities she is ill prepared to deal with.
The diction, having a blend of local terminology, readily appeals to the comprehension of the indigenous reader while at the same time makes for the understanding of the non-Gambian reader with accompanying explanations of such terminology, amounting to definitions of sorts.
The challenges and demands that marriage life poses, particularly to the female party in the Gambian social set-up, are portrayed while simultaneously the effects on the social status of the female being single, regardless of economic position, are spelt out.
Aside from vivid descriptions of The Gambia's maritime scenery, the author also treats the reader to graphic accounts of objectionable realities in Gambian officialdom as she sees it while showing the opportunities that are up for grabs for well-performing overseas-educated returnee graduates.
An all pervasive thread that runs throughout the story is the comparative merits of relationships, both conjugal and casual, a comparison which in the denouement tips the scale in favour of married life in spite of the odds.
The book, available at Timbooktoo Bookshop, is compelling read for students with career ambitions, career people, notably women and all interested in following current trends in social intercourse.
Read Other Articles In Article (Archive)