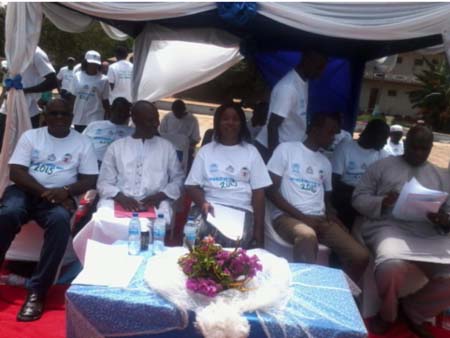 Office of the United Nations High Commissioner for Refugees (UNHCR) in The Gambia, in collaboration with Gambia Food and Nutrition Association (GAFNA), on Saturday commemorated World Refugees Day on the theme: 'Ordinary people living through extra-ordinary times'.
The ceremony, held at the Friendship Hotel in Bakau, began with a march-past from the Traffic Lights to the Independence Stadium Friendship Hotel.
Speaking on the occasion, Sekou K. Saho, head of UNHCR Banjul office, said 15 years into a millennium that many people hoped would see an end to war, violence has continued to spread throughout the world.
"More people fled last year than at any other time in our records," he said. "Around the world, almost 60 million have been displaced by conflict and persecution. Nearly 20 million of them are refugees, and more than half are children.Their numbers are growing and accelerating every single day, on every continent."
Statistics indicated that in 2014, an average of 42,500 people became refugees, asylum-seekers or internally displaced persons, every single day – that is, four times more than just 4 years ago.
"These people rely on us for their survival and hope. They will remember what we do," Mr Saho said.
He noted that even as the tragedy of refugees continues to unfold, "some of the countries that are most able to help are shutting their gates to people seeking asylum.Borders are closing, push backs are increasing and hostility is rising. Avenues for legitimate escape are fading away."
At this time, humanitarian organisations like UNHCR, run on shoestring budgets, are unable to meet the spiraling needs of such a massive population of victims, he added.
According to Mr Saho, the world has reached a moment of truth as stability is falling apart leaving a wake of displacement on an unprecedented scale.
"Global powers have become either passive observers or distant players in the conflicts driving so many innocent civilians from their homes," he said.
"In this world of war, where power relations are unclear, and unpredictability and impunity have become the name of the game, it is now urgent for all those with leverage over the parties to these conflicts to put aside their differences and come together to create the conditions for ending the bloodshed," he added.
The head of UNHCR Banjul office said that since the beginning of civilization, refugees have been treated as people deserving protection.
"Whatever our differences, we have recognised a fundamental human obligation to shelter those fleeing from war and persecution," he said. "Yet today, some of the wealthiest among us are challenging this ancient principle, casting refugees as gate crashers, job seekers or terrorists. This is a dangerous course of action, short-sighted, morally wrong, and – in some cases – breach of international obligations."
Jammeh Ceesay, a commissioner at the Gambia Commission for Refugees, thanked the Gambian leader, Yahya Jammeh, the government and people of The Gambia for the hospitality and support given to refugees living in the country.
"The Gambia did not only ratify the Geneva Convention or domesticate the Refugee Act but has also gone an extra mile to receive and provide refugees with a better environment that few refugees the world over are privileged to enjoy," he said.
Mr Ceesay called on everybody, citizens and refuges alike, to maintain the peace that prevails in The Gambia.
He urged the refugee community to remain law-abiding and maintain the already peaceful co-existence between them and the host communities.
Oumie Kalsum Cham, principal assistant secretary at the Ministry of the Interior, said everyone should welcome, with open hands, refugees and all other persons of concerned everywhere as they led ordinary lives before becoming displaced, and their biggest dream is to be able to live normal lives again.
She said The Gambia government has recognised the important role played by UNHCR, GAFNA and relevant partners for their efforts in providing durable solutions to the plight of refugees in The Gambia.
Ms Cham assured refugees and other concerned persons in The Gambia of the Interior ministry's continued protection and favourable and enabling environment for their development.
Yusufa J. Gomez, executive director of GAFNA, said refugees had a life, an identity, a family and a future before they were forced to flee their original countries.
"It is evident that the majority of refugees are faced with enormous challenges ranging from livelihood, health, social protection and so forth after departing their country of origin in emergency situations," he noted.
Mr Gomez said it is on this backdrop that GAFNA, as a national development NGO, built partnership with UNHCR to provide humanitarian assistance to refugees in The Gambia to reduce their vulnerability and improve their socio-economic status.
Read Other Articles In Article (Archive)